In a groundbreaking turn of events, Nvidia has overtaken Qualcomm to become the preeminent fabless chip designer globally. The surge in revenue experienced by leading chip design firms, owing to the ongoing generative AI revolution, played a pivotal role in this seismic shift.
According to industry analysts at TrendForce, these firms collectively amassed a staggering $38.1 billion, marking a remarkable 12.5% surge from the preceding quarter.
Nvidia's ascendancy was nothing short of meteoric. Fueled by the global appetite for artificial intelligence services built on expansive language models, the company witnessed an astronomical 105% surge in data center earnings. This exceptional growth was further catalyzed by the triumphant launch and widespread adoption of their cutting-edge Hopper and Ampere architecture HGX systems.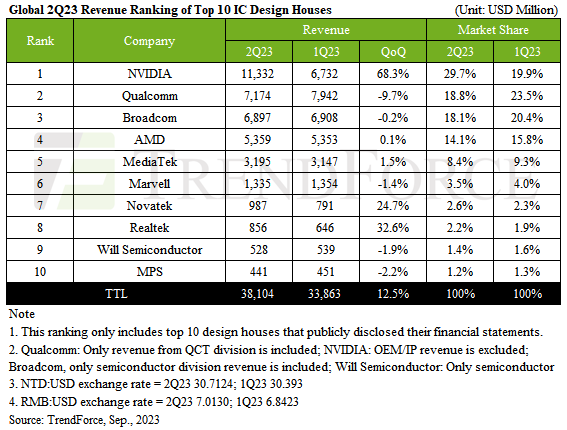 The numbers tell a remarkable story: Nvidia's Q2 earnings soared to an astounding $11.33 billion, a jaw-dropping 68.3% increase quarter-over-quarter, as attested by TrendForce's comprehensive report.
However, Qualcomm faced a set of challenges in the same period. The Android smartphone market experienced a noticeable downturn, resulting in a dip in the company's revenue. Although Apple's advance orders for modems provided some reprieve, Qualcomm reported Q2 earnings of approximately $7.17 billion, reflecting a 9.7% decline quarter-over-quarter.
Meanwhile, Broadcom, another significant player in the industry, concluded the quarter with revenue in the vicinity of $6.9 billion, aligning closely with its previous quarter's performance. While the company did reap the benefits of surging demand driven by AI, particularly in the high-end switches and routers sector, they also grappled with challenges in segments like server storage and broadband.
Advanced Micro Devices (AMD), a major supplier of server CPUs, reported a Q2 revenue of approximately $5.36 billion. However, the company's performance was somewhat impacted by a dip in sales of gaming GPUs and embedded chips.
In contrast, MediaTek experienced a remarkable resurgence, with Q2 earnings surging to an impressive $3.2 billion, buoyed by the success of components such as TV SoCs and Wi-Fi solutions.
As the industry shifts its gaze toward the impending third quarter, analysts at TrendForce have tempered their optimism with caution. While inventory levels present a promising outlook, there's a discernible dip in end-user demand on the horizon.
Nevertheless, the escalating interest in AI and large language models from major corporations hints at a potential trajectory of sustained growth. Projections indicate the possibility of yet another double-digit surge for the top IC design firms, underscoring the dynamic nature of this ever-evolving industry landscape.
Related:
Nvidia Believes Upscaling Like DLSS Will Overshadow Native Resolution
Nvidia Faces Class Action Lawsuit For Melting Graphics Card
Nvidia is hinting more VRAM for 3060 Ti and 3070 Ti to encounter VRAM deficiency in Next-Gen GPUs