The CPU is crucial for a computer because it still dictates the device's capabilities. The CPUs are essential for editing, multitasking, or playing games. The best processor for productivity and gaming in its price range is the Ryzen 5 3600X. Thanks to its improved power efficiency, auto-overclocking tool, and capable supplied heatsink, the Ryzen 5 3600X is the best affordable processor on the market. The AMD Ryzen 5 3600X replaces the Ryzen 5 2600X, which was already among the top gaming processors. You can use this list as a convenient resource for assistance because our team has spent hours looking for the best motherboard for Ryzen 5 3600X. With improved IPC (instructions/clock) performance, it elevates that performance stage that is cost-conscious.
Consider the top gaming motherboard as the base of your upcoming computer. Your gaming computer's motherboard determines what it is capable of. It's crucial that if you compromise, you can get one that underperforms and could even damage or ruin all the components you spent a lot of money on. Given these considerations, it's essential to carefully assess your motherboard before becoming overly excited about all the fantastic capabilities your PC will have based on its CPU and GPU.
Quick Shopping Tips:
PCI Slots: PCI spots are the standard expansion slots on the motherboard used to attach expansion cards. Every motherboard varies in the number of expansion slots. Your need will decide how many slots you want. If you are a gamer, you should at least go with one full-speed PCI express ×16 slot. Aside from this, if you connect multiple graphics cards, you will need more than one slot. It all depends on your requirements, so check them first.
SATA Ports: Before buying a MOBO must figure out how many SATA ports the board offers you. SATA ports connect storage drives and optical drives such as HDD and SSD. So, make sure the SATA ports on your MOBO fulfill your needs. You can consider at least four SATA ports in the motherboard; otherwise, the choice of 6 ports is quite good.
RAID Support: RAID stands for Redundant Array of Independent Disks. It is a set of protocols to arrange many hard drives into arrays. This array helps increase the speed of data access from the hard drive. Many motherboards already have built-in RAID support if you want RAID support to purchase such a type of motherboard. However, you can buy it separately and add it to your board.
VRMs: Voltage Regulator Modules are a significant factor in the processor's performance. A motherboard with higher VRM phases will provide your processor with a higher overclocking speed with enough efficiency.
Networking: if you want passionate gaming and mainstreaming, consider factors like WIFI 6. This factor will expand the scope of your purpose.
Our Recommendations For Best Motherboard for Ryzen 5 3600X
---
ASRock B450M Steel Legend
Best Budget Motherboard for Ryzen 5 3600X
Brand: ASRock | Chipset: AMD B450 | Socket: AM4 | Form Factor: ATX | Memory: 64 GB DDR4 | Memory Speed: 2400 MHz
REASONS TO BUY
✓Content protection audio
✓Very light in weight
✓Supports DDR4 memory
✓Extensive cooling system
REASONS TO AVOID
✗May face a problem while turning off the RGB
Apart from ASUS, many other brands have appeared at the front of the tech market. And have proven themselves by the quality of the products they manufacture. One such product is ASRock. One of its motherboards is the B450M Steel Legend, whose incredible features provide exceptional performance. You can get through long gaming hours effortlessly because you do not need to get worked up by the thought of your system heating up. The fantastic connectivity options and the vivid graphics are to die for.
AMD has launched this microprocessor socket which surpasses all its predecessors. The AMD chipset is the Promontory B450. It is responsible for high-quality graphics. The AMD Quad Crossfire supports these Graphics. Crossfire Technology backs it. The connectivity slots available make you feel quite decadent. You get three PCIe 3.0 x16 slots, out of which one runs at x8 and the other at x4. Other than this category, you get two more types. These include three PCIe 2.0 x16 slots, and each runs at x4. There is another PCIe 2.0 x1 slot as well. This is sufficient even for gamers who face connectivity issues very often. This Motherboard will give you an audio experience you have not gone through before. An experience that every gamer deserves to have. The Realtek ALC892 7.1 Channel audio produces high-quality sound.
The one that makes you feel like you are in a gamer's arena while sitting in the comfort of your living room. It is the one that creates such an environment that forces you to continue with your winning streak. The Motherboard operates on Windows 10. And with this one in your hands, you do not have to worry much about networking since ASRock has settled the matter entirely for you. The Steel Legend offers you Realtek RTL8111H PCI Express x1 Gigabit Ethernet Controller. The device supports DDR4 Technology RAM, and you get four memory slots. That is quite a lot of space. All this is provided to you at a very lightweight. So, this option is worth the money. Also, you get multiple fan headers if you buy them from the right supplier.
Asrock B450M Pro4
Best Micro ATX Motherboard for Ryzen 5 3600X
Brand: ASRock | Chipset: AMD B450 | Socket: AM4 | Form Factor: Micro ATX | Memory: 64 GB DDR4 | Memory Speed: 2400 MHz
REASONS TO BUY
✓Superb value for the price
✓Higher compatibility with cases than ATX motherboards
REASONS TO AVOID
✗The Audio chipset is subpar
The affordable, well-performing, and well-designed ASRock B450M Pro4 motherboard should please even the most discerning customers. This motherboard delivers a lot at an excellent price, so gamers on a tighter budget considering an AMD Ryzen PC should be interested in it. This motherboard employs a cutting-edge hybrid Digi Power design to deliver smooth power and precise control. The stability and durability of the motherboard are also significantly increased by the guaranteed efficient and clean power delivery to the CPU.
The ASRock B450M Pro4 MATX motherboard is equipped with everything needed. There are numerous ports on the back, as well as a PS/2 port for people who still use vintage peripherals. 4 SATA connections and 2 M.2 storage slots are available. The VGA, DVI, and HDMI connectors on the back would be usable if you paired this board with a Ryzen 2200G or 2400G APU. By reducing the cost of the motherboard, this ASRock solution effectively enables gamers to concentrate their spending on a good CPU and graphics card.
When it comes to aesthetics, the company did great in this range. Two RGB headers and an addressable LED header are available for aesthetic purposes to accommodate LED coolers and lighting strips. The locations of all four fan headers make sense. We saw no problems or excessive heat from the VRM heatsinks, and ASRock used reliable capacitors on this motherboard, which appears to be a good thing. This motherboard can operate more steadily and offer a longer lifespan thanks to these sturdy caps.
ASUS ROG X570 Crosshair VIII Formula
Best Overall Motherboard for Ryzen 5 3600X
Brand:ASUS | Chipset: AMD X570 | Socket: AM4 | Form Factor: ATX | Memory: 128 GB DDR4 | Memory Speed: 5100 MHz
REASONS TO BUY
✓AMD Store MI increases connectivity
✓Includes 10K metallic capacitors
✓Supports GameFirst V software
✓High endurance
REASONS TO AVOID
✗It does not provide a live dash
Coming back to ASUS, I have another fantastic and promising product on the list. It is from the same X570 series but has much more to offer than you probably think. ASUS ROG X570 Crosshair VIII Formula has made its place on our list due to several reasons. First, it is value for money. This product offers you so much for so little money. Its features will leave you spellbound. On top of the list is its durable yet light-weighted design. Despite the low weight, it is engineered to perfection. It carries so much within it and is designed to protect the entire system thermally.
The cooling zone feature paired up with the Integrated Crosschill EK III and an active heatsink for the chipset seals the deal, as this cooling system is the best on the list. You already know my favorite part of ASUS products. It is the Aura Synchronization. It offers you RGB Lighting with the RGB headers and the addressable headers. So, there will be a lot of experimenting with this feature onboard. Another feature that makes the Crosshair Formula stand out from its competitors is its power delivery. The design is thin and sleek, yet the power delivery is powerful. It provides a total of 16 (14+2) IR3555 PowlRstages.
The networking options are unlimited. First, there is Wi-Fi 6 (802.11ax). Then we have 5G and Gigabit Ethernet support by Intel and Aquantia. MU-MIMO supports Wi-Fi, and the ASUS LANGuard protection collectively protects both options. The overall design is hassle-free and requires minimum set-up time. The presence of features such as the I/O shield, the ASUS SafeSlot, and the BIOS Flashback makes setting up even more accessible. Everybody loves personalizing their stuff. Guess what? There is more to personalization in this motherboard. Yes, apart from the Aura personalization, you can personalize the tuning and overclocking options.
MSI B450 TOMAHAWK MAX
Best B450 Motherboard for Ryzen 5 3600X
Brand: MSI | Chipset: AMD B450 | Socket: AM4 | Form Factor: ATX | Memory: 128 GB DDR4 | Memory Speed: 3466 MHz
REASONS TO BUY
✓Impressive memory performance
✓Out of the box support for 3rd generation processors
✓Overclocking performance is better than other B450 motherboards
REASONS TO AVOID
✗There could have been some RGB lighting
✗Some are available at a slightly higher price
A tremendous motherboard from MSI for AMD's AM4 architecture is the B450 Tomahawk. Delivering the best possible gaming and professional experience requires only the highest quality components and the integration of the most recent technological advancements. A highly reliable, the high-performance motherboard is guaranteed by meticulous quality testing under the most challenging circumstances. The MSI B450 Tomahawk is the popular B350 Tomahawk's replacement and provides consumers with a significantly greater feature set, such as additional memory support.
A B450 motherboard's storage capacity is higher than expected, with six SATA ports supporting RAID 0, 1, and 10 arrays. The power consumption tests, where the B450 chipset's 2W idle power drain plays a significant role, show the most promising aspects of the B450 Tomahawk's overall performance. The B450 Tomahawk performs admirably at maximum load with one of the lowest maximum power draws recorded from an AM4 board thus far.
A pair of USB 3.1 Gen2 ports and integrated RGB LED illumination are the first steps in this process. Realtek controllers of reasonable quality and affordability are paired on the networking and audio sides. For a quick and straightforward firmware update, MSI has added a BIOS Flashback+ button to the board's rear panel. The heatsinks and PCIe implementation are two of the most significant aesthetic distinctions between the B350 and B450 Tomahawk.
MSI B450I Gaming Plus AC
Best Mini-ITX Motherboard for Ryzen 5 3600X
Brand: MSI | Chipset: AMD B450 | Socket:AM4 | Form Factor: Mini ITX | Memory: 32 GB DDR4 | Memory Speed: 3466 MHz
REASONS TO BUY
✓Uses high-end VRM components
✓Fairly high overclocking potential
REASONS TO AVOID
✗It uses a low-end audio chipset
Thanks to the features built into MSI motherboards, the memory in your gaming setup can run faster, with more significant overclocking potential and excellent stability. With the B450I Gaming Plus AC, MSI has unmistakably taken the more budget-friendly route. It comes with various reasonably priced controllers and provides a smaller form factor Mini-ITX gaming alternative. MSI B450 Gaming Pro Carbon It's a great deal at only $130. It may be the best AM4 motherboard for under $200.
It includes gaming heatsinks with a Passion Red color scheme for maximum cooling and performance. MSI Audio Boost uses high-end audio components to provide music with the best sound quality. This MSI GAMING motherboard supports all of the most recent storage standards. You can gain this in-game by connecting any ultra-fast storage device. With the best cutting-edge technologies integrated into MSI hardware, you may enjoy a seamless VR experience that gives you a lifelike gaming experience.
The black color makes the first look more appealing, giving it a sportier appearance. To support more cores and deliver superior performance with a premium design and digital power design. Value-wise, the MSI B450 Gaming Pro Carbon AC falls short. However, it has a more appealing appearance than the competitors, has a cooler Vreg operation, and can be worth spending more money on those things to have a more abundant experience.
Asus ROG Strix B450-F
Best Premium Motherboard for Ryzen 5 3600X
Brand: Asus | Chipset: AMD B450 | Socket: TR4 | Form Factor: ATX | Memory: 64 GB DDR4 | Memory Speed: 3200 MHz
REASONS TO BUY
✓Tweaking-friendly ROG UEFI
✓Better-than-expected DRAM overclocking
✓Impressive SupremeFx Audio
✓Swappable southbridge sticker
REASONS TO AVOID
✗Missing power/reset buttons and POST LED
✗Some worrying BIOS oversights
✗No M.2 heatsinks
✗No Wi-Fi
The Asus ROG Strix B450-F has quite an impressive look. This rockstar with an AM4 socket is ready to boot up all high-gen AMD processors and give them complete freedom of performance. It supports high-speed DDR4 memory of 3200Mhz, which can go right up to 4400MHz (OC) via 4x Dual-channel DIMM slots, which is reasonably satisfactory for gaming enthusiasts. The Australian PC Awards 2019, as the best Motherboard of 2018, should speak loudly for the ROG Strix B450-F. This middle-range motherboard provides adequate power and thermal performance to help you set a tremendous high-end or an excellent budget build for gaming.
It offers dual NVMe M.2 for high-speed storage capabilities, supported with RAID to enhance its performance further. The USB 3.1 Gen 2 Type-A connectors are also part of the lightning-fast connectivity setup by ASUS. The high-quality integrated SupremeFX S1220A audio enhanced with Sonic Studio III makes the gaming experience much more immersive and realistic. The networking capabilities of the ROG Strix B450-F with Intel® I211-AT Gigabit LAN Controller are also an excellent addition. The Lan is protected with an Antisurge LANGuard and optimized with ROG GameFirst Technology for better ethernet performance.
The 5-way optimization is Dual Intelligent Processors 5 is another feature provided by ASUS to make personalization, tunning, and overclocking a lot easier for non-experienced gamers. The overall software support on this motherboard is excellent and allows gamers to fully personalize and enhance their gaming experience. When it comes to aesthetics, the ROG Strix B450-F shines like the industrial-grade rockstar that it is. The classy pre-installed I/O shield is a DIY-friendly addition. The durable components and detailed additions like the ESD guards and Digi+ VRM really defines the top-notch design that performs as well as it looks.
MSI MPG X570 Gaming Plus
Best Overclocking Motherboard for Ryzen 5 3600X
Brand: MSI | Chipset: AMD 570X | Socket: AM4 | Form Factor: ATX | Memory: 128 GB DDR4 | Memory Speed: 2666 MHz
REASONS TO BUY
✓Includes M.2 shield Frozr accessory
✓Amazing light synchronization
✓Supports Rainbow LED strip
✓High-quality audio
REASONS TO AVOID
✗May not support older video cards
The MPG X570 Gaming Plus provides a motherboard that is sufficient for your AMD Ryzen 3000 processor and a little extra for a very affordable price. MSI motherboards contain many clever features that make them easy to set up and use. MSI pushes the boundaries of memory performance and stability. One of MSI's entry-level motherboards, the MPG X570 Gaming Plus, is based on the virtually similar X570-A Pro AMD X570 chipset.
The increased audio and powerful LAN networking features of MSI motherboards make any gaming experience immersive. The potential transfer rates of PCIe 4.0 are double those of PCIe 3.0, improving performance for (mainly) SSDs that can use the extra bandwidth. Experience the most immersive gaming experience using high-end audio components to produce the best sound possible. Furthermore, the best components give you the most immersive audio experience while gaming.
Each MSI motherboard has a distinct theme to accommodate various preferences and likes. However, because it is one of the cheapest motherboards with this chipset, it has no onboard RGB and only the barest minimum of LEDs. Also, MSI uses a large surface area and sleek, simple cuts to build the heatsink modernly. The RGB LED effects of the MSI motherboard display the gamer's tunes.
ASUS ROG Strix X570-E
Best High-End Motherboard for Ryzen 5 3600X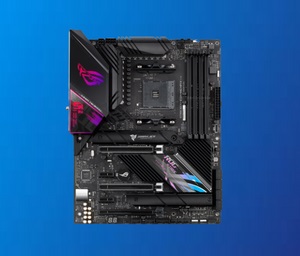 Brand: ASUS | Chipset: AMD X570 | Socket: AM4 | Form Factor: ATX | Memory: 128 GB DDR4 | Memory Speed: 2133 MHz
REASONS TO BUY
✓I/O shield included
✓It comes with ASUS safe slot
✓Easy assembling and setting
✓Efficient cooling
REASONS TO AVOID
✗All processors do not support NVME slots
The ROG Strix X570-E Gaming from ASUS, one of the top motherboard manufacturers, is about as excellent as it gets before getting into enthusiast territory. Rather than being a gaming board, the Asus ROG Strix X570-E Gaming is more of a power-user board. However, compared to other models, its cheaper cost and extensive feature set make it the easiest of the early X570 products to recommend. Around $300 may be spent on the ASUS ROG Strix X570-E Gaming.
Motherboard manufacturers typically go for the obvious options, but when AMD revealed that its newest platform would enable one NVMe M.2 drive from the CPU and up to 16 high-speed connections from the X570 PCH. The Strix X570-E Gaming additionally offers eight SATA ports, as opposed to some rival models that have reduced them to four to utilize the additional four lanes.
When we look at the bottom of the Strix X570-E Gaming, we can see that the PCH cover is made of mesh and fastened with two screws. Unfortunately, that cover must be taken off to reach the forward screws of the heat sinks. With the launch of ROG Strix X570-E Gaming, a fresh look with distinctive cyber-text and rainfall patterns is introduced. The ROG Strix X570-E Gaming makes it incredibly simple to build and customize a gaming setup that fits your unique aesthetic.
Conclusion
The CPU still determines a computer's capabilities, making it the most crucial component. The CPUs are crucial whether you're editing, multitasking, or playing gaming. The Ryzen 5 3600X is the most excellent processor in its price range for both gaming and productivity. The Ryzen 5 3600X is the most excellent mid-range CPU currently available because of its increased power efficiency, auto-overclocking tool, and capable supplied heatsink. The best motherboards for Ryzen 5 3600X were examined in-depth in today's article, which will be very helpful to you if you are building your PC.
The top five motherboards for Ryzen are five of them. Any of them would be a sensible pick, but several things could affect your choice. If you're beginning from scratch with a PC and want a loving experience within an inexpensive price range, ASUS ROG Strix X570 is your best option. The best inexpensive motherboards for Ryzen are the MSI MPG, MSI B450, and MSI B450I because they give you everything you need at the most fundamental level. Furthermore, the finest motherboard with Ryzen 5 3600X features is the Asrock B450M.
Related Posts:
Frequently Asked Questions
What motherboards are compatible with Ryzen 5 3600x?
Any motherboard with an AM4 socket is compatible with Ryzen 5 3600x. The best ones are MSI 450 Tomahawk, MSI B450 Gaming Pro Carbon AC, MSI B450I Gaming Plus AC, and ASRock B450M Pro4.
Is Ryzen 5 3600x compatible x570?
Yes, it's a perfect combination. Both Ryzen 5 3600x and x570 complement each other and deliver above-average performance.
Do you need thermal paste for Ryzen 5 3600x?
If you don't apply thermal paste to your Ryzen 5 3600x, it will surely heat up and go out of order sooner than expected. So yes! You do need to apply thermal paste on your Ryzen 5 3600x.
Does b550 support Ryzen 5 3600x?
Yes, b550 set works perfectly well for Ryzen 5 3600x as it is meant to work with all Zen 2 and Zen 3 Ryzen Processors.
Is Ryzen 5 3600x good for gaming?
Yes, It is. Actually, Ryzen 5 3600x is primarily a gaming CPU. Ryzen 5 3600x has whopping six cores to run all AAA titles and other high-end games very easily.