When building a custom-made gaming PC for the first time, you'll be more interested in choosing the system's best graphic card and processor. However, don't forget that the motherboard acts as a foundation because every hardware component is connected to the motherboard. Even if you choose the best GPU and CPU, you won't have the desired performance if you choose the wrong motherboard. To ensure a good gaming experience, research the best motherboard for gaming in 2023.
Gaming requires a powerful chipset and robust graphics card. Moreover, a motherboard must allow easy configuration with the other hardware components and provide unsurpassed performance. Otherwise, buying a low-grade motherboard will result in a disappointing performance. This guide will list down the top gaming motherboards that you can buy. Investing your money requires informed decision-making and this comprehensive guide assures it.
We've picked out the latest gaming motherboards designed for different chipsets, including Intel, AMD, and other CPUs. These motherboards are compatible with the core i-5 11th generation. The processor has five cores and a clock speed of up to 4.1 GHz, which is suitable for extensive gaming. Moreover, there are motherboards of varying sizes ranging from ATX to mini ATX, so if you've got a small PC casing or want a motherboard on a budget, we've listed some of the best mini and micro ATX motherboards that are thoroughly tested out for gaming. Before you buy the motherboard for your system, you must consider factors like the number of RAM slots/graphic cards, form factor size, socket type, and GPU support capability, as this would help you decide and make a mindful purchase.
Motherboard Form Factor: The size of the motherboard, also known as the form factor, is categorized into four types, namely: Mid tower (mid-size), full tower (full-size), mini ITX (small size), and Micro ITX (mid-size). The size varies according to each type. The full tower is famous for motherboards due to its enormous size and additional features like a significant number of expansion slots. The mini ITX, as the name implies, is the smallest motherboard with limited slots. So, decide according to your requirements which form factor will be best for you.
Socket: Once you've selected the suitable form factor, you'll have to consider the socket built inside the motherboard. Depending on the socket on your motherboard, you can choose a processor. There are three types of sockets, namely: Land Grid Array (LGA), Ball Grid Array (BGA), and Pin Grid Array (PGA). AMD processors utilize PGA; however, some Intel processors use PGA. Intel processors mainly use LGA sockets. Both of the sockets can be easily upgraded. Using BGA processors is not a great idea since they are permanently attached to the motherboard and cannot be upgraded. First, choose which processor you want to buy, as this will give you direction on the type of motherboard you should go for.
RAM: When buying the motherboard, you need to consider the main memory, i.e., RAM. Gaming demands high processing power and an excellent RAM capacity. Hence, it would help if you chose a motherboard with 16 GB RAM. In addition, you should choose a motherboard with additional RAM slots so you can add other RAM modules in the future.
PCI slots: The peripheral component interconnects (PCI) allow you to expand the capabilities of your computer by adding expansion cards such as a graphics card, sound card, network card, and Wi-Fi connectivity. A PCI slot allows you to upgrade your PC by adding additional cards to boost your PC for an excellent gaming experience.
Ports: When buying a motherboard, make sure it has many SATA ports to connect external storage mediums like HDD or SDD to increase the storage capacity. Moreover, it's recommended to have a motherboard that supports 6 GB SATA, also known as SATA III. Loading times would be longer, and data transfer rates would increase. This would provide a tremendous advantage when playing games.
Table of Content:
---
Asus TUF Gaming Z590-Plus WIFI
Best Z590 Motherboard
Chipset: Intel ‌Z590‌ ‌ chipset | Socket: LGA‌ ‌1200‌ | Form Factor: ATX‌ | Voltage Regulator: 1‌4 + 2 | PCIe‌ ‌x16: 1 | USB Ports: 12 | Warranty: 3 Years
REASONS TO BUY
✓Budget-friendly
✓Excellent cooling and VRM
✓Comes with RGB headers
✓Super Fast
✓Supports WiFi
REASONS TO AVOID
✗Limited USB slots
The Asus TUF Gaming Z590 has got upgraded features, unlike its predecessors. Equipped with the powerful Z590 chipset, the Asus TUF Gaming supports the 10th and 11th-generation Intel core processors, which means that the processor will run at a blazing-fast speed. This would generate high amounts of heat, but thanks to M.2 slots and VRM heat sink, which is 1.6x more efficient than its predecessors, the motherboard is designed for the best cooling solution, making it heat efficient.
When you're gaming, you'll experience a smooth and lag-free experience. Furthermore, the ASUS gaming motherboard supports PCI 4.0, allowing you to add 3 RAM and more RAM sticks quickly if you wish to increase the memory in the future. What makes the motherboard shine is that it supports higher bandwidth, meaning it has an increased data transfer rate.
This feature ensures that your graphic cards deliver the optimal performance required for heavy gaming. The aesthetic RGB lighting on the sides does speak to the gamer on a personal level. The excellent cooling system, powerful chipset, and additional slots make this motherboard affordable.
Asus ROG Maximus XIII Hero
Best Intel Motherboard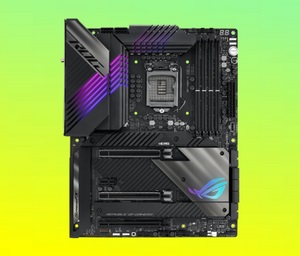 Chipset:Intel ‌Z590‌ ‌ chipset | Socket:LGA‌ ‌1200‌ | Form Factor: ATX‌ | Voltage Regulator:16 | PCIe‌ ‌x16: 3 | USB Ports: 10 | Warranty: 3 ‌Years‌
REASONS TO BUY
✓Robust and powerful
✓Supports WiFi
✓High-grade audio
✓A great number of USB ports
REASONS TO AVOID
✗It's expensive
The ASUS ROG Maximus XIII Hero is the latest innovation in the line of motherboards. Since it has heat sinks and spreaders along with diagonal cut designs, the motherboard is designed to be heat efficient because let's face it; gaming can heat your processor faster. Therefore, a VRM heatsink is added to the motherboard. We've good news for you if you have more than one SATA device.
The ASUS ROG Maximum XIII Hero has 6 x 3.0 SATA ports, so you can add SATA drives to increase the storage as well as the speed of the system. The motherboard is capable of offering a 90 A consistent power phase. Also, it has sufficient ports positioned so you can easily plug in the cables. You also get 4 M.2 slots for inserting SSDs, with 2 of the slots with PCIe 4.0 support. If you install games on SSD, you'll notice that the games load faster than ever, and the system's performance significantly improves.
In a nutshell, the Asus ROG Maximus XIII Hero maximizes the system's performance by delivering high speed. Thanks to its robustness, it's built to last for 4-5 years. Although the price of the motherboard is on the higher side, its features are worth every cost.
GIGABYTE X570 AORUS Elite Wi-Fi
Best X570 Motherboard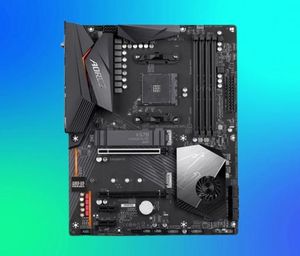 Chipset: 2nd and 3rd generation AMD Ryzen processor | Socket: AMD AM4 | Form Factor: ATX‌ | Voltage Regulator: 12 + 2 | PCIe‌ ‌x16: 2 | USB Ports: 4 | Warranty: 3 ‌Years‌
REASONS TO BUY
✓Robust build
✓Good value for the price
✓Affordable
REASONS TO AVOID
✗WiFi Chipset isn't the latest Gen
The Gigabyte X570 AORUS select motherboard supports AMD Ryzen 2nd and 3rd generation processors. Unlike predecessors, this motherboard comes with PCIe 4.0, which offers double bandwidth for Solid State Drives. Moreover, it includes 2 x M.2 slots and a heatsink that ensures proper airflow to prevent overheating.
Moreover, there are 4 RAM slots found on the motherboard, so you can insert RAM up to 128 GB in the future when needed. At this price point, the motherboard delivers excellent performance and works well in overclocking conditions when there is a lot of load on the motherboard. While gaming, you'll face no lags or any issues.
The product also comes with MX-4, a compound paste targeted to reduce heat emissions. If the processor temperature increases, you can use the paste and see instant results. The temperature lowers down, and you'll have a seamless gaming experience. Even though the Gigabyte X570 AORUS Elite processor has fewer USB slots and doesn't support multiple GPU setups, it meets the requirements of users concerned with its performance.
Asus ROG Strix B550-F Gaming Wi-Fi
Best B550 Motherboard
Chipset: B550 | Socket: AM4 | Form Factor: ATX‌ | Voltage Regulator: 12 + 2 | PCIe‌ ‌x16: 2 | USB Ports: 8 | Warranty: 3 ‌Years‌
REASONS TO BUY
✓Includes magnetic WiFi 6 antenna
✓Budget-friendly price
✓Easily supports Ryzen 3900X processor
✓Powerful
REASONS TO AVOID
✗Some users have experienced WiFi connectivity issues
The Asus ROG Strix B550-F gaming is another entry-level motherboard that does the job well. If you're searching for the best motherboard under $200, you won't be disappointed by this gaming motherboard with commendable features. The motherboard is equipped with 14-phase power delivery, 6 SATA ports, 2x M.2 slots, and built-in WiFi. When we tested the product under extreme load, no issues were found.
There was no overclocking issue, meaning you can play games that require high processing power very smoothly. The ROG Strix B550-F has a minimalistic design, and you'll find heatsinks to prevent the motherboard from heating. No heatsink is found on the chipset because the B550 chipset consumes low power. You'll also find 2 M.2 slots supporting PCIe 3.0 and PCIe 4.0.
Each of them has its own heatsink to keep it cool. To add a personalized look to the motherboard, the Asus motherboard has 2 fancy RGB headers, one found at the top and the other at the bottom. You'll get plenty of SATA ports, utilize BIOS features, premium audio quality, and WiFi capability.
Gigabyte X570S Aorus Master
Best AMD Motherboard
Chipset: X570S | Socket: AM4 | Form Factor:ATX‌ | Voltage Regulator: 14 + 2 | PCIe‌ ‌x16: 1 | USB Ports: 12 | Warranty: 3 ‌Years‌
REASONS TO BUY
✓Comes with Wi-Fi 6E
✓Increased number of USB slots
✓Impressive cooling system
REASONS TO AVOID
✗It's expensive
One of the premium and solidly built motherboards, the Gigabyte X570S AORUS Master comes with the powerful X570S chipset, which follows a different architecture than the X570 chipset. This motherboard doesn't have a cooling fan on the chipset because it's designed to be power efficient. With 4 PCIe M.2 slots, 14 +2 power phases, and WiFi 6e, The Gigabyte X570s offers a lot.
The 12 + 2 power design delivers 840 A, making it one of the most potent motherboards. The Gigabyte is powered by fins technology for improved air circulation, ensuring heat is radiated outside the components. Coming down to the memory, 4 DIMM slots can support up to 128 GB of memory. This feature allows you to increase your memory if you ever have to. There are 6 SATA ports, and a USB header positioned, so they don't interfere with the graphic card. There are no heating issues with the motherboard – thanks to the built-in cooling pads in every slot.
Unlike its rivals, the Gigabyte X570S features 4 M.2 slots that allow you to increase storage. If you're into RGB lights, you're definitely in for a treat because the motherboard has 5 RGB headers above the I/O module. When you turn on the system, the rear side of the I/0 lights up beautifully. It's undoubtedly the best motherboard for gaming because gaming with this motherboard is spot on because it works optimally in a multithreading environment. The VRM cooling is pretty impressive as well.
Asus ROG Crosshair VIII Dark Hero
Best AM4 Motherboard
Chipset: AMD X570 | Socket:AM4 | Form Factor: ATX‌ | Voltage Regulator: 14 + 2 | PCIe‌ ‌x16:3 | USB Ports: 12 | Warranty: 3 ‌Years‌
REASONS TO BUY
✓Incredible performance
✓Sufficient USB ports
✓Supports Wi-Fi 6
REASONS TO AVOID
✗It's expensive
In terms of functionality, the ASUS ROG Crosshair VIII Dark Hero delivers top performance and provides quality software and Bios support. At the premium price tag, you'll get 8 SATA ports, 90 A VRMs, and up to 12 USB ports, which is a real deal! The X570 chipset doesn't come with a separate cooling fan since it has a built-in heatsink that ensures the chipset doesn't get too hot under a high load.
What's impressive about this motherboard is that 3 PCI-E x 16 expansion slots support PCIe 4.0 version. You can easily add multiple graphic cards from either AMD or NVIDIA. There are slots for adding a sound card and network card as well. If you have more than one SATA drive, you can utilize the feature of 8 SATA Ports on the motherboard. With more than 10 USB ports, you can plug in as many devices as you want.
It is possible to set up a RAID with two PCIe 4.0 storage devices on AMD's Ryzen 3rd generation platform, resulting in faster data transfer speeds. ROG CROSSHAIR VIII DARK HERO provides excellent performance aided by the RGB backlighting on the motherboard and the four RGB headers, one of which can be directly controlled. Getting the most performance out of your CPU and memory requires a stable, refined motherboard. You'll not be disappointed if you go with the ASUS ROG Crosshair VIII Dark Hero motherboard.
MSI MAG B460M Mortar WiFi
Best mATX Motherboard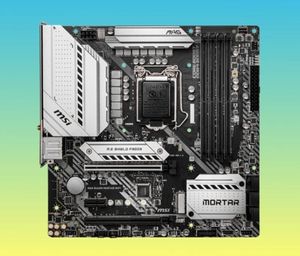 Chipset:B460 | Socket: LGA1200 | Form Factor: Micro ATX‌ | Voltage Regulator: 12 + 1 + 1 | PCIe‌ ‌x16: 3 | USB Ports: 6 | Warranty: 3 ‌Years‌
REASONS TO BUY
✓Good value for the price
✓Delivers great performance when gaming
✓Efficient cooling
REASONS TO AVOID
✗Has a few memory limitations
The MSI MAG B460M comes with dozens of unique features suitable for gaming. There are some limitations regarding memory speed and overclocking, but if that doesn't bother you, you should get your hands on this processor. It does tick all the boxes when it comes to gaming features. Though it's a micro ATX board, it has almost all the same features as popular Full-sized ATX boards. Two M.2 slots, six SATA ports, and four fan headers ensure the board stays cool when heated.
With 12 + 2 phase power, you can efficiently run any 10th-generation Intel processor. Comes with an 8-pin EPS power connector for power. This PC isn't going to get too hot. However, if you run heavy loads all the time, you'll need some airflow to keep it cool. Speaking of performance, the B460 Mortar motherboard doesn't disappoint. Like the ASRock we also tested, the B460M Mortar has a BIOS setting for optimizing the power limits of 65W CPUs.
In this case, you can 'overclock' the non-K-series CPU with adequate cooling. The DDR4 Boost increases the system's speed and ensures smooth operation while working with memory-intensive applications or gaming. Moreover, it also comes with Wi-Fi 6 and support, which you can use for online gaming. Specifically, the MSI audio boost provides excellent high-quality sound that gives you the sense that you are actually in the game. With good VRM, WiFi6 support, and great I/O.
Gigabyte X570-I Aorus Pro
Best Mini ITX Motherboard
Chipset: AMD X570 | Socket: AM4 | Form Factor:MINI ATX‌ | Voltage Regulator:6 + 2 | PCIe‌ ‌x16:1 | USB Ports: 6 | Warranty: 3 ‌Years‌
REASONS TO BUY
✓Supports 16 core AMD processors
✓Delivers excellent power
✓Compact-sized design
REASONS TO AVOID
✗A little expensive
The Gigabyte X570-1 combines enhanced PCI slots, a specially designed chip fan, and numerous heatsinks. Remember that small form factor motherboards don't have additional expansion slots, but they can easily fit in a small PC casing. However, don't underestimate the motherboard by its size. You'll find premium features similar to top-grade motherboards on the Gigabyte X570-I AORUS Pro board.
The Gigabyte AORUS PRO can run 16-core AMD processors with 64 GB RAM and GPU. The chipset supports PCIe 4.0 and M.2 Slots for increased performance. You can add 4 SATA drives into the given slots. Moreover, the motherboard has two fan headers to keep the PC cool when it heats up. If you're building a solid gaming PC, this motherboard is an excellent option because it works exceptionally well when you're gaming. The temperature levels are stable, and powerful VRM cooling allows you to use the PC for a prolonged period.
For those who want to add RGB lighting for a personalized look, you'll find RGB headers on the right side of the motherboard. You can control the lights using the RGB software. It's possible to flash the latest Gigabyte BIOS using a USB drive without physically installing the processor and RAM. Despite its benefits, it only has problems if you want to add a second GPU, has a case with front USB-C ports, or wish to use more than two GPUs.
Conclusion
Choosing the best motherboard for gaming in 2023 is crucial when you've got a wide range of gaming motherboards. One can quickly get confused when picking the best overall motherboard suitable for gaming. If you're looking for a high-end AMD motherboard, we recommend you buy Asus ROG Crosshair VIII Dark Hero or Gigabyte X570S Aorus Master. Both boards are excellent in terms of performance, speed, overclocking, cooling system, and additional slots for adding memory and other necessary cards. If Intel is what you're looking for, go for the Asus TUF Gaming Z590-Plus WIFI that supports 10th and 11th-generation Intel core processors.
As a budget gaming motherboard, Asus ROG Strix B550-F Gaming Wi-Fi is one of the best models on the market that features similar features to those of premium boards, including 14 phase power delivery, 6 SATA ports, 2x M.2 slots, and much more. With this product, you can get a high-end motherboard look and feel. It supports PCIe 3.0 and PCIe 4.0, found in expensive boards. The Asus TUF Gaming Z590-Plus WIFI is another great deal with an Intel Z590 chipset. You can add the 10th and 11th generation Intel core processors, making the system super fast and ideal for gaming environments. You will get a banging performance with this mothboard.
Frequently Asked Questions
What type of motherboard is best for gaming?
As discussed above, the motherboard comes in different sizes/form factors. From Full-Sized ATX to MINI ATX, you'll find gaming motherboards in ATX, Micro ATX, and MINI ATX. If you want a high-performance motherboard, go for the ATX motherboards range because they will have more slots for adding SSDs, RAM, GPU, network card, and many others to have an excellent gaming experience. You can upgrade it by increasing storage drives and memory. With mini and micro ATX motherboards, there are some limitations associated with them. So, choose according to your requirements.
What is the best motherboard for gaming in 2023?
In this guide, we've listed the top 8 motherboards that are best for gaming. You can pick the one that suits your needs best. If you're an Intel user, you should go for a motherboard that supports the Intel chipset; otherwise, go for AMD-based motherboards. If you've enough budget and want to make a once-in-a-lifetime investment, you won't go wrong with the Gigabyte X570S AORUS Master. The price is a bargain with 4 PCIe M.2 slots, 6 SATA ports, 14 +2 power phases, WiFi 6e, and cooling pads. On the other hand, if you're on a tight budget, you can check out the MSI MAG B460M Mortar WiFi motherboard for gaming.
Does the motherboard really matter in gaming?
Yes, especially if you're building a motherboard for gaming. The hardware components you integrate into the motherboard (or mainboard) are certainly one of the essential elements. The motherboard handles all communication between system parts and ensures it works correctly. You may want to consider main components such as the CPU, GPU, number of slots you require, and SSD if you are building a gaming PC. The components of the motherboard that you choose should be able to run heavy games.