Intel and AMD have been against each other for years. AMD started rolling out its Ryzen 5000-series processors in 2017 and has impressed its users with these masterpieces. These processors combine some extraordinary features with heavy-duty performance to take down all current-era games, creativity software, and 3D rendering without any issue. Additionally, AMD has combined intense overclocking capabilities with jaw-dropping single-core performance to let you enjoy your time, especially when you're playing games.
Suppose you want to build a gaming or content creation PC using a Ryzen 5000-series processor. In such a case, you must also focus on other components, like graphics cards, motherboards, etc., to accomplish your goals. Well, for the motherboard, one of the best X570 motherboards must be your priority. This way, you can handle those hefty overclocking, core-heavy horsepower, high-end bandwidths via PCIe 4.0 connectivity, and more. Also, you can utilize all-rounder wireless communications, faster USBs, and more.
| Award | Design | Best | Retailer |
| --- | --- | --- | --- |
| Best Value X570 Motherboard | | | View |
| Best AM4 X570 Motherboard | | | View |
| Best Mid Range X570 Motherboard | | | View |
| Best Budget X570 Motherboard | | | View |
| Best RGB X570 Motherboard | | | View |
| Best Gaming X570 Motherboard | | | View |
| Best Overall X570 Motherboard | | | View |
| Best High-End X570 Motherboard | | | View |
But finding a board that gives you all the benefits mentioned above is challenging. You don't know whether the motherboard you're looking at will perform well on your PC or not. This is the reason why we have tested so many X570 motherboards from different brands and compiled in-depth reviews on a few in this article. Moreover, we have added a short but helpful buying guide to explore all important factors regarding a good-quality motherboard. Read the buying guide, check the list, read the reviews, and look at the pros and cons.
Best X570 Motherboard List
---
MSI MEG X570 Godlike
Best Value X570 Motherboard
SPECIFICATIONS
Brand: MSI |Chipset: AMD 570X |Socket: AM4 |Form Factor:E-ATX |Memory: 128 GB DDR4 |Memory Speed:5000 MHz |
REASONS TO BUY
✓DIY Friendly
✓Built-in Wi-Fi 6 and LAN
REASONS TO AVOID
✗Too Costly
The MSI MEG X570 Godlike combines spectacular aesthetics with high-end hardware and the latest features. This motherboard is ideal for those looking to overclock their beast processors since it has all the features and properties to support the latest processors while maintaining a low temperature. MSI MEG X570 Godlike also serves excellent aesthetics as it equips users with MSI Mystic Light technology, enabling them to create endless patterns out of millions of colors. Furthermore, it is designed to disperse heat and maintain low temperatures even as the CPU performs multiple tasks. MSI MEG X570 Godlike contains Frozr Heatsink and an Extended heatsink Design.
It has a patented fan and a double ball bearing to deliver reliable and consistent performance. Also, the extended heat-pipe design enlarges the area for heat dispersion. Besides this, MSI MEG X570 Godlike does not lack in the power supply aspect too. It uses the core boost technology, titanium choke II, eight power connectors, DrMOS, and IR digital power to provide the best gaming experience and overclock all the latest AMD processors. And MSI MEG X570 Godlike is DIY-friendly since it was designed to make the setup convenient. Even its BIOS update is effortless to install. This motherboard comes with lightning-fast PCIe 4.0 ports, M.2 slots, and 3.2 USB ports. Also, MSI MEG X570 Godlike supports Wi-Fi6 and MSI Gaming LAN, so gamers can enjoy long uninterrupted gaming with little to no lag.
MSI MEG X570 Godlike also delivers pristine audio quality with the help of 2x audio processors, ESS DAC, and Nahimic technology for an immersive and impactful gaming experience. But it is a pricy motherboard that can be bought for around $700; hence, it is not likely to fall into most people's budget. Nevertheless, MSI MEG X570 Godlike is a fantastic option for those who can spend $700 since it has premium specs, unrivaled power, and a comprehensive thermal design.
Asus ROG Strix X570-F Gaming
Best AM4 X570 Motherboard
SPECIFICATIONS
Brand: ASUS |Chipset: AMD X570 |Socket: AM4 |Form Factor: ATX |Memory: 128 GB DDR4 |Memory Speed:4600 MHz
REASONS TO BUY
✓Value for Money
✓External BIOS button
✓Reliable and Consistent performance.
REASONS TO AVOID
✗Users are unable to access M.2 socket because of the design
ASUS isn't only famous for manufacturing high-class laptops, PCs, and graphics cards and its impressive motherboards. Its ROG Strix series motherboards are dedicated to heavy-duty workloads like gaming or creating content. You can see two X570 variants in the series: X570-F and X570-E. This ROG Strix X570-G Gaming is less expensive than the "E" version. But it also sits below in terms of a few specifications, features, and performance. Overall, this board is perfect for mid-range gamers in the X570 stack.
You can utilize the excellent X570 chipset's performance of this ATX board when paired with the Ryzen 5000 series processor via AM4 socket. Suppose you're building a top-tier system. In such a case, you can pair DDR4 RAM kit with up to 128GB and run with a 4600MHz memory speed via dual-channel memory architecture. Regarding connectivity, there are plenty of all-type USB ports, 8 SATA 6Gb/s connectors, PCIe 3.0/4.0 connectors, and dual M.2 PCIe 4.0 ports. Sadly, WiFi and Bluetooth aren't on the board; check X570-E for these features.
You can also use dual LAN with one Intel I211-AT and Gigabit LAN Controller for networking. Moreover, the audio, power design, thermal management, and overall look, everything is impressive. The 12+4 power phase design with alloy chokes, durable capacitors, and ProCool II power connector is enough for optimal power flow. The motherboard has an all-black PCB with subtle white and grey lining, minimalistic RGB lighting, and shiny-coated heatsinks. The thermal management design is also impressive and effective.
Asrock X570 Taichi
Best Mid Range X570 Motherboard
Brand: ASRock |Chipset: AMD X570 |Socket: AM4 |Form Factor: ATX |Memory: 128 GB DDR4 |Memory Speed: 4666 MHz |
REASONS TO BUY
✓Built-in Wi-Fi
✓Adequate Ports
✓Improved and flexible I/O shield
REASONS TO AVOID
✗Chipset cooling is inadequate
✗The high temperature while performing multiple data-intensive tasks
When it comes to Motherboards, Asrock delivers 100% without a doubt. Asrock motherboards provide stunning performance and trendy designs, and Asrock X570 Taichi is no exception. It is made of a stainless design that gives it a sharp and aesthetic look. The body of this motherboard is also durable and has a metal backplate to protect itself from harm. In addition, Asrock X570 Taichi offers an improved integrated I/O shield that is more convenient than traditional. It has some addressable LED strips and RGB LEDs for delivering elegant aesthetics.
Besides this, Asrock X570 Taichi maintains temperature through the aluminum alloy heatsink of M.2 slots, a chipset fan, and EBR fans that are twice as durable as the traditional fans. Even the chipset fan works in semi-passive mode, which prolongs its life. To provide better connectivity and network signals, Asrock X570 Taichi utilizes a Built-in Wi-Fi 6, which will provide a speed of 2.4 Gbps at most times. It is one of the few motherboards in the market that offers a Thunderbolt 3 AIC header. It also equips the users with easy-to-install BIOS updates. Moreover, Asrock X570 Taichi features multiple PCIe 4.0 slots, dual Type-A and Type-C 3.2 Gen2 USB ports, and one front Type-C 3.2 USB port.
Asrock X570 Taichi is equipped with high caliber components like 60A chokes, Nichicon 12K Black Caps, Combo Caps, and Dr.MOS solution to deliver amplified and adequate current required for optimum performance. Dr.MOS is the newest smart power tool that optimizes the energy for each CPU component. It also powers processors and other CPU components with its 14 power phases. Lastly, Asrock X570 Taichi can be bought for around $299-$320. Again there are more cost-effective motherboards on this list. Also, some people have complained that the chipset fan needs to be fixed according to expectations. And some users have also complained that when the CPU completes multiple complex tasks, the temperature tends to be relatively high.
GIGABYTE AMD X570 UD
Best Budget X570 Motherboard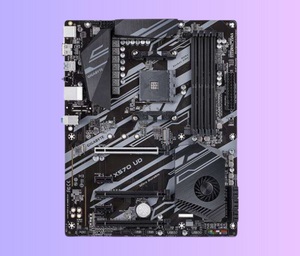 Brand: Gigabyte |Chipset: AMD X570 |Socket: AM4 |Form Factor: ATX |Memory: 128 GB DDR4 |Memory Speed: 4400 MHz |
REASONS TO BUY
✓Advanced thermal and cooling system
✓Smart Fan Stop Technology
✓Q-Flash Plus BIOS update
REASONS TO AVOID
✗No Built-in Wi-Fi
The GIGABYTE AMD X570 UD is a durable motherboard with remarkable performance thanks to its cutting-edge hardware and unique features. GIGABYTE AMD X570 UD offers the latest power, thermal, and data transfer solutions to deliver the desired performance. This motherboard also makes installing the BIOS update very convenient for the user with the help of Q-Flash Plus. And it features an RGB light strip that can be customized according to the users' liking.
It utilizes 10+2 Digital VRM power phases with a MOSFET design to provide a precise and adequate power supply to your rig's power-hungry processors and sensitive components. This means your CPU components will precisely receive the energy supply they need- neither less nor more. Additionally, GIGABYTE AMD X570 UD features an AMD X570 chipset which means it can support the latest AMD series and over-clock them for smooth gameplay and handling intense tasks. Furthermore, GIGABYTE AMD X570 UD is equipped with fast ports and slots to provide game enthusiasts with fast data transfer and flexibility. It has PCIe 4.0 slots and PCIe 4.0 M.2 connectors for advanced connectivity. GIGABYTE also integrated Gaming GbE LAN technology in this motherboard for next-generation network and bandwidth management.
The cooling technology utilized by this motherboard is unparalleled. It has an advanced thermal design, thick thermal pad, smart fan, water pump connectors, ball-bearing fan, and enlarged heatsink to cool down the CPU components. GIGABYTE AMD X570 UD also has Smart Fan 5 technology that uses temperature sensors and fan headers to allow users to control the cooling setup. To top it all off, The Fan Stop technology allows the user to control the fan's movement. They can customize each fan to stop when the temperature drops below the set parameter, reducing noise and conserving energy. It also has audio capacitors and Audio Noise Guard to deliver HD quality.
MSI MPG X570 GAMING PRO CARBON WIFI
Best RGB X570 Motherboard
Brand: MSI |Chipset: AMD X570 |Socket: AM4 |Form Factor: ATX |Memory: 128 GB DDR4 |Memory Speed: 4400 MHz
REASONS TO BUY
✓Stylish Look
✓Fast USB transfer
✓Ideal for gamers
REASONS TO AVOID
✗Other brands offering more features at the same price tag
MSI MPG X570 Gaming Pro Carbon WiFi in one of the motherboards in the MPS X570 Gaming series—the other one is a non-WiFi version with some other tweaks. This WiFi version, which is currently under discussion, is a sweet spot in the mid-range X570 category in terms of pricing, features, and performance. You can get all those feature-rich glories when you pair the AMD Ryzen 5000-series chip with this incredibly-fast ATX motherboard. Besides that, it has an attractive look, all-rounder connectivity, and more in one spot.
Four DDR4 DIMMs are given on the right-hand corner to accommodate up to 128GB RAM and run with 4400+ MHz memory speed. Apart from that, there are four SATA 6Gb/s ports, plenty of USB ports, PCIe 3.0/4.0, dual M.2 slots, and more. It also has multi-GPU support via 2-Way AMD CrossFire technology and a single HDMI video connector. Besides the excellent wired connectivity, the board has onboard WiFi 6 802.11ax and Bluetooth to establish stable wireless communications. Therefore, you won't have to compromise any aspect of connectivity.
One downside of this board is that it doesn't have as excellent NICs as some other brands' same-tier boards. Instead, there is an Intel I211AT Gigabit LAN controller for networking. On the aesthetics side, the MPS MSI X570 G.Pro has an all-black PCB with black carbon-inspired aesthetics with grey and silver lining. Regarding thermal design, both M.2 keys have the Frozr chipset heatsink, including a fan for active cooling. Moreover, you can use several fan headers to connect any air-based cooler or AIO to keep the temperature under control.
ASUS PRIME X570-PRO
Best Gaming X570 Motherboard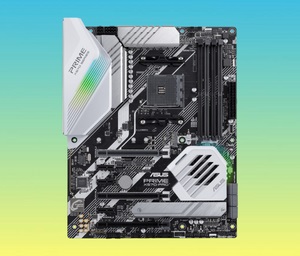 Brand: ASUS |Chipset: AMD 570X |Socket: AM4 |Form Factor: ATX |Memory: 128 GB DDR4 |Memory Speed: 2133 MHz
REASONS TO BUY
✓Sturdy built
✓Cost-Effective
✓Advanced over-clocking
REASONS TO AVOID
✗No built-in Wi-Fi
ASUS Prime motherboards series is famous for having some high-class non-gaming motherboards for design-enthusiast fans. Although the motherboards in this series aren't for gaming as the ASUS ROG series, still, you can utilize them while having an excellent processor in your PC. The ASUS Prime X570-Pro is an excellent X570-series motherboard to build a future-proof system. Sadly, it lacks features like wireless communication being one of the X570 boards in the Prime series. But the rest of the specifications are similar to its rivals.
You can accommodate four DDR4 DIMMs on this ATX motherboard to make up 128GB RAM with 5100MHz of whopping memory clock speed. The dual-channel memory architecture benefits the Ryzen 5000-series processors for outstanding performance. It has plenty of all-type USB ports, six SATA 6Gb/s connectors, PCIe 3.0/4.0 support, one PCIe 3.0/4.0 M.2 key, and one PCIe 4.0 connector. But wireless connectivity isn't as excellent as wired. No onboard WiFi support and Bluetooth feature will affect your wireless communication.
But there is an Intel I211-AT controller for networking and a Realtek S1220A high-definition audio codec for crystal-clear audio quality. The overall design of the motherboard is also impressive. An all-black PCB is covered with a white and silver combination, making it perfect for building a white system. Moreover, the power and thermal design are also impressive. There is a 12+2 power phase design with DrMOS technology, and an adequate heatsink absorbs unwanted heat. You can also connect the AIO pump and control it via Fan Xpert 4 technology.
GIGABYTE X570 AORUS MASTER
Best Overall X570 Motherboard
Brand: Gigabyte |Chipset: AMD X570 |Socket: AM4 |Form Factor: ATX |Memory: 128 GB DDR4 |Memory Speed: 4000 MHz |
REASONS TO BUY
✓Extensive Cooling Design
✓Power Architecture
✓Next-Generation Network Connectivity
REASONS TO AVOID
✗Expensive than some other options discussed above
✗Base-plate can have some compatibility issues
Gigabyte has been in the market for years, manufacturing all types of motherboards for all users' categories. It's primarily known for its top-tier motherboards. Take the Gigabyte X570 Aorus Master as an example which offers all-rounder performance, all the necessary specifications, and more in one spot. This board is perfect for users looking for an all-rounder, feature-rich motherboard to pair with AMD Ryzen 5000 processor in their next build. Although it's on the high-end side, it's an expensive board, so count on this fact.
Like most ATX motherboards, this features dual-channel memory architecture to accommodate four DDR4 DIMMs to make up to 128GB memory and a 5400MHz memory speed. Regarding specifications, there are twelve USB ports, six SATA 3.0 6Gb/s connectors, PCIe 3.0/4.0 support, three PCIe M.2 connectors, and more. In short, it has everything you may need for wired connectivity and expansion purposes. On the other hand, wireless communications also become great with WiFi 6E AX210 and Bluetooth 5.2 features.
The motherboard's power, build, and thermal design is also great. The board is built on a 6-layer PCB together with a 12+2 power phase design consisting of 70A MOSFETs, alloy chokes, high-quality capacitors, and more. The all-black PCB looks beautiful with white and grey accent touches, especially on the heat sinks. Moreover, the minimalist RGB lighting is another feature that makes the board stand out in the crowd. You won't have to worry about heat since the advanced thermal design with fins-array heatsink will control it.
ASUS TUF GAMING X570-PLUS WIFI
Best High-End X570 Motherboard
Brand: ASUS |Chipset: AMD 570X |Socket: AM4 |Form Factor: ATX |Memory: 128 GB DDR4 |Memory Speed: 4400 MHz |
REASONS TO BUY
✓It's cheap
✓High-end components
✓Great Cooling system
REASONS TO AVOID
✗No frontal Gen 2 3.1 USB ports
ASUS has several motherboard series for all types of users, including ROG, Prime, and TUF. The ROG series is known for its high-quality gaming-based products, while TUF focuses more on durable, military-grade products. One such is the ASUS TUF Gaming X570-Plus WiFi which falls in the high-end category and is featured with all types of current-era features. Suppose you have a high-end Ryzen 5000 series chip. In this case, pairing the CPU with this AM4-based motherboard will give you impressive overclocking and overall performance.
You can pair up to 128GB of memory on this motherboard using four DDR DIMMs and run at a 5100MHz memory speed. These memory specifications exactly match the ASUS Prime X570-Pro. Other than that, this board has thirteen USB ports, PCIe 3.0/4.0 support, eight SATA 6Gb/s connectors, dual M.2 keys, etc., for wired connectivity and expansion purposes. Other than that, the presence of onboard WiFi and Bluetooth make this board perfect for wireless communication too. In short, this is perfect for all-rounder communication.
For your information, you can run multiple graphics cards using this mobo via its multi-GPU support with AMD CrossFireX technology. Moreover, the 12+2 Dr. MOS power phase design fitted on a 6-layer PCB with ProCool sockets, Digi+ VRM, and military-grade TUF components gives effective power input. Not only the power design but the thermal design is also great. The comprehensive cooling design comprises a VRM heatsink, active chipset heatsink, M.2 heatsink, and hybrid fan headers with Fan Xpert 4 for supervision.
Conclusion
A motherboard is like a skeleton for a computer that holds most of the PC components and lets them showcase their performance capabilities. You must buy and pair a compatible motherboard into your PC according to the rest of the components. You must consider several factors when choosing one, and the chipset is one of them. Suppose you have an AMD Ryzen 5000 processor. One of the best X570 motherboards must be your priority in such a case. You can enjoy excellent features like PCIe 4.0 support, excellent overclocking, and more.
Let's simplify things for you! You must check the Gigabyte AMD X570 UD and MSI MEG X570 Godlike if you want an affordable motherboard with an excellent price-to-performance ratio. But the true tech enthusiasts who want to get the most out of their PC can check the ASUS TUF Gaming X570-Plus WiFi and Gigabyte X570 Aorus Master—both have everything a user can expect. Other than that, the Asrock X570 Taichi is perfect for mid-range users. To build a white gaming rig, you must check the ASUS Prime X570-PRO in this case.
How We Chose Best X570 Motherboards
Cache Memory: Cache memory plays a vital role in the fast performance of the CPU. A significant amount of Cache in L2 and L3 is 8MB each, enabling the processor to fetch the data fast. On the other hand, the minimum range of cache results in slow performance.
Storage: We need to store applications, data, and files before powering off the system. One of the necessary features of a good motherboard is dedicated storage space for keeping your data safe. A high-quality motherboard has multiple memory slots to save the data for future use.
RAID Support: Raid is a pack of protocols for managing numerous hard drives into "arrays" to enhance the external drives' data access. These days the motherboard is already embedded with the RAID controller. So, you can save money on what you have to spend on purchasing these RAID controllers.
PCI Slots: You need PCI slots or ports to connect expansion cards to your motherboard. How many PCI slots your motherboard has depends on your need. However, if you are a gamer, remember you at least have one full-speed PCI express×16 slot. You will need numerous PCI slots if you want to connect multiple cards.
Networking: They have been prepared with WIFI 6 and Bluetooth 5.0 support. This next-generation networking makes your gaming and mainstream exceptional and effortless. No network lag will disturb you. So, if you are passionate and creative, you should have this advanced wireless quality in your MOBO.
Frequently Asked Questions
Which X570 motherboard is best?
X570 Motherboards by reputable companies that have stood the test of time are considered the best. Asus ROG Crosshair VIII Dark Hero, Gigabyte X570 Aorus Ultra, and Asus X570 ROG Crosshair VIII Hero Wi-Fi are some of the best X570 motherboards in the market.
Is the X570 motherboard worth it?
It depends on your situation. If you consider upgrading your set-up within a year, you can invest in an X570 motherboard. However, if you aren't going to upgrade your rig within the next 3-4 years, invest in some other motherboards since there are already many in the market that can outperform the X570 motherboard.
What is the fastest X570 motherboard?
MSI MEG X570 GODLIKE is considered to be the fastest X570 motherboard in the market.
Is X570 or B550 better?
In short, the X570 chipset is better than the B550 due to several reasons. You can utilize better overclocking, performance, and overall efficiencies with X570 than with the B550. On the other hand, the B550 is more like a budget-focused chipset. It's perfect for those users who want a motherboard with a 500-series chipset without spending much.