The Intel Core i9-11900K is the market's latest and most asking CPU. This Intel 11th Gen pro is highly appreciated and wanted by pro gamers and passionate users. Therefore, handling this beast isn't a cup of tea for every motherboard. You will need a more proficient and durable board for this process. One of the first few things you will need after purchasing a MOBO is the best motherboard for i9-11900k.
| Award | Design | Best | Retailer |
| --- | --- | --- | --- |
| Best Flagship Motherboard for i9-11900k | | | View |
| Best Overall Motherboard for i9-11900k | | | View |
| Best Budget Motherboard for i9-11900k | | | View |
| Best Z590 Motherboard for i9-11900k | | | View |
| Best ATX Motherboard for i9-11900k | | | View |
| Best RGB Motherboard for i9-11900k | | | View |
A compatible PC system is a demand nowadays and a need. The components of the computer hold high price tags on them. Therefore, it is not easy to show carelessness in this regard, as one wrong decision can ruin your rig—that's why you need to pay heed to this matter. Especially when you have to select a motherboard for your PC System. With the motherboard, all the other components come in touch with each other and become responsive.
Overclocking is a significant factor if you are really into it; examine the VRM phases before deciding on aboard. More VRM phases divide the delivery performance to the CPU, which adds more efficiency and effectiveness to your System. Below are some boards with their full descriptions, which we exclude for you to read all these for a compatible choice.
Quick Shopping Tips:
Form Factor: It's the first thing you check before selecting the motherboard; you need to decide the size of your build and the motherboard form factor. You can go for an ATX form factor motherboard if you do not have any space issues. However, if you want a compact and small rig, you should use a smaller form factor motherboard, like Mini-ITX.
Chipset: Buying a motherboard with an incompatible chipset can create many problems. It can render your built non-functional and create bottleneck issues. A processor like i9 11900K would require a Z590 or Z490 chipset motherboard.
CPU socket: The motherboard you buy must have a CPU socket that can support your processor. The i9 11900K requires a motherboard with LGA 1200 socket, so make sure the motherboard you buy has this CPU socket.
RAM and Storage: Your rig needs at least 16 GB of RAM to process commands efficiently, run games, and deliver optimum performance. Hence you must buy a motherboard that can support 16 GB or more RAM and comes with multiple RAM slots. The same goes for storage devices; your rig needs fast storage options to load games and work seamlessly. So make sure your motherboard has the latest PCIe 4.0 M.2 slots for storage devices.
Best Motherboard for i9-11900K List
---
GIGABYTE Z590 AORUS Elite AX
Best Flagship Motherboard for i9-11900k
Brand:Gigabyte |Chipset: Intel Z590 Express |Socket: LGA 1200 |Form Factor: ATX |Memory:128 GB DDR4 |Memory Speed: 5400 MHz
REASONS TO BUY
✓Best budget board
✓USB 3.2 Gen 2×2
✓Fast 2.5 Gbe LAN
REASONS TO AVOID
✗No extreme overclocking
✗No dual Ethernet port
Another AORUS GIGABYTE motherboard, but this Gigabyte Z590 Elite AX model is high-end with tons of features. Those who can't afford Aorus master can prefer this model from Aorus. This motherboard has all the needed features for the gamer, streamer, video, and audio editor. This unit can use 128GB DDR4, and 5000MHZ RAM in overclock mode. However, you cannot expertise this MOBO for extensive overclocking.
Still, the 12+1 VRM enables this motherboard to deliver a suitable performance for i9-11900K. Also, the other facilities are in this motherboard to uplift your work. In this motherboard, you can expect a comprehensive cooling facility that prevents the System from overheating. For this, we can't deny the durable VRM heatsink that assures the thermal performance around the M.2 drives. There are only two PCle slots; one supports 4.0, which ensures 16 connections, and the other is a 3.0 slot.
Due to 3.0 PCle, there can be a bottleneck with multiple GPU compatibility. Well, the grey and white blend of the board makes it subtle. Upon this, RBG Fusion 2.0 on the board gives an attractive look when lightening up. Also, the USB 3.2 Gen2×2 is there to enhance the usage of this board. However, you can't expect extreme overclocking and versatility. But still, it offers efficient support.
ASUS ROG MAXIMUS XII FORMULA
Best Overall Motherboard for i9-11900k
Brand: ASUS |Chipset:Intel Z490 |Socket: LGA 1200 |Form Factor: ATX |Memory: 128 GB DDR4 |Memory Speed: 4700 MHz
REASONS TO BUY
✓High-quality motherboard
✓OLED Display panel
✓Robust delivery system
REASONS TO AVOID
✗No USB controller
✗Enough use of glossy plastic
The ASUS ROG MAXIMUS XII FORMULA is a versatile and super-efficient motherboard. This beast has all the advanced features and performance that a gamer wants. The 1200 LGA Socket Intel in this board makes it the best choice and ensures the performance of the Intel Core 10th Gen processor. Upon this, the 14+2 Phases of VRM enable it to pass full power to the CPU so that the work will be done smoothly.
Nonetheless, this motherboard offers you sufficient Al-overclocking without gaining much temperature. In addition, the ASUS OptiMem III feature enables the board to run faster, whereas Stack Maximus XII Formula doubles the bandwidth capacity. Three PCIe 3.0 M.2 divides into two channels to support PCIe 3.0 ×4 modes and SATA controllers. While the other two are compatible with PCIe 3.0 x4 for NVMe.
On this, the addition of WIFI 6, Intel 2.G Ethernet, and 10 Gbps onboard Ethernet networks make your gaming system flexible. Meanwhile, the inclusion of Intel Optane Memory controls most-used files effortlessly and makes the process super-fast and responsive. ASUS ROG MAXIMUS XII is a flagship and suitable unit for everyone. However, you will need to pay more heed to Dual BIOs, which would take little time.
MSI MPG Z590 Gaming Carbon WIFI
Best Gaming Motherboard for i9-11900k
Brand: MSI |Chipset:Intel Z590 |Socket: LGA 1200 |Form Factor: ATX |Memory: 128 GB DDR4 |Memory Speed:5333 MHz
REASONS TO BUY
✓Durable and reliable board
✓Fast and extensive performance
REASONS TO AVOID
✗Only default rainbow for RGB setting
If you want a quality motherboard at a reasonable budget, consider MSI MPG Z590 Gaming Carbon WIFI. This Z590 can maintain the maximum power load of the CPU. However, the motherboard has been designed with 16+1+1 phases and has enough capacity to pass 75A at each stage to the CPU. Due to this, you can expect extreme overclocking from this high-end quality unit.
MSI MPG Z590 Gaming Carbon WIFI offers good overclocking performance with many other latest advancements. While giving extensive usage, this board doesn't resist working because it is incorporated with excellent cooling features. This Z590 has built up with severe heat-preventing arrangements such as heat pipe, MOS heatsink, thermal pads, and much more to ensure performance.
It's a motherboard with Multiple PCIe 4.0 and 3.0 slots, offering you an advanced connectivity facility. Furthermore, you can use wireless and wired methods for faster data transfer due to LAN, WIFI 6, BT 5.2, and USB 3.2. Besides all these, the mystic light illumination of the board gives an aesthetic look to your rig system. Furthermore, you can reach up to 5333MHz RAM in OC mode.
GIGABYTE Z590 AORUS Master
Best Budget Motherboard for i9-11900k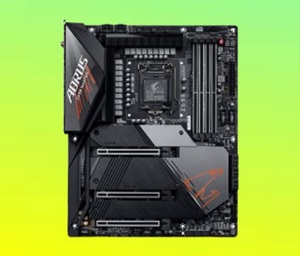 Brand: Gigabyte |Chipset:Intel Z590 Express |Socket:LGA 1200 |Form Factor: ATX |Memory: 128 GB DDR4 |Memory Speed:2133 MHz
REASONS TO BUY
✓Outstanding overclocking
✓Magnifying RGB lighting
✓Double Bandwidth
REASONS TO AVOID
✗Thunderbolt 4 ports aren't available
The GIGABYTE Z590 AORUS Master motherboard is, in actuality, a master in performance and durability. Moreover, the pro features that it offers users are commendable. Now, you have VRM solution 18+1 phases which from 19 power stages deliver 90A supply each time to CPU. Nevertheless, this motherboard never compromises its performance as it can provide you 5400MHz RAM when overclocked, even though this board can reach up to 5.2GHz on i9 11900K.
Where the Z590 Master gives you superior overclocking, it never upsets you regarding cooling. With this board, the temperature never goes above 70°. It comes with heatsinks that protect the M.2 slots with the help of thermal padding. The board comes with PCle 4.0 premium feature where this board is considered superior to other versions.
Furthermore, it also has advanced connectivity services such as Intel WIFI 6E and 10Gbe LAN. The other edge you can get is USB 3.2 Gen 2×2. You will not get all these features in every motherboard, especially for the i9 11900K. GIGABYTE Z590 AORUS Master has dual BIOS and a user-friendly interface that makes it easier to handle. However, we can't neglect RGB Fusion 2.0 and the LED effect producing magnificent hues in the room. You can have a brilliant experience while using it for multiple tasks.
ROG Strix Z590-I Gaming WIFI
Best Mini ITX Motherboard for i9-11900k
Brand: ASUS |Chipset: Intel Z590 |Socket: LGA 1200 |Form Factor: ATX |Memory: 64 GB DDR4 |Memory Speed: 5133 MHz
REASONS TO BUY
✓Good capabilities of overclocking
✓USB 3.2 Gen 2
✓Thunderbolt 4 Support
REASONS TO AVOID
✗No Bluetooth
✗Only 8+2 VRM phases
Last, ROG Strix Z590 Gaming WiFi can reach up to 5133MHz RAM on OC mode as it never compromises performance. Also, this mini board handles 8+2 power stages with an optimized thermal design.
Furthermore, this motherboard offers a great comfort zone with its two-way AI noise cancellation. With this noise cancellation system, you will not hear surroundings and other internal mouse and keyboard sounds. In this way, you can focus on the game or your work. Out of two M.2 slots, one supports PCIe 4.0 to provide maximum storage and speed.
Nevertheless, you won't be deprived of WiFi 6E and 2.5 Gb Ethernet compatibility, enhancing the system's performance. Moreover, you can handle this unit effortlessly using BIOS FlashBack for BIOS updates, even though you can update without a memory card and CPU. ROG Strix Z590-I Gaming offers services in its range that are not very supreme and cheap.
ASUS TUF Gaming Z590 Plus
Best Z590 Motherboard for i9-11900k
Brand: ASUS |Chipset: Intel Z590 |Socket:LGA 1200 |Form Factor:ATX |Memory: 128 GB DDR4 |Memory Speed: 5333 MHz
REASONS TO BUY
✓M.2 Q-Latch make easy to fit
✓RGB lighting with Sync Aura
REASONS TO AVOID
✗One PCle 4.0 Support
Are you naive and want to practice with the economical motherboard, or are you a gamer with a tight budget? Well, in both cases, this ASUS TUF Gaming Z590 Plus should be your choice. It works with 14+2 phases, which gives you an average speed. The maximum overclocked supports 5100MHz RAM. With the digital VRM, it reaches up to 62°C; otherwise, it can reach up to 100°C. Hence, you can't overclock with this device at an extreme.
Anyhow, you will be provided with other premium features. The board has PCIe 4.0 support; thus, you can connect multiple hardware efficiently. This motherboard's Intel LGA 1200 socket supports the 10th and 11th Gen of Intel Core processors. Other features such as M.2 heatsinks, FanXpert 4, and PCH fanless heatsinks are also embedded to control temperature. Aside from these, versatile connection support is available there.
Now, this excellently designed board provides USB 3.2, which offers up to 20Gbps fast transmission speed with extensive bandwidth. Nonetheless, This includes features like 2.5GB Ethernet, WiFi 6, and Turbo LAN technology. When it comes to audio, then one thing is absolute it's the quality of sound. When playing an 8K resolution game on your gaming rig, all the unnecessary noise will be avoided at that time. So, such sound quality multiplies the feel and interest more when gaming. Anyhow, you can expect an adequate performance in its range.
ASUS ROG Strix Z490-E Gaming
Best ATX Motherboard for i9-11900k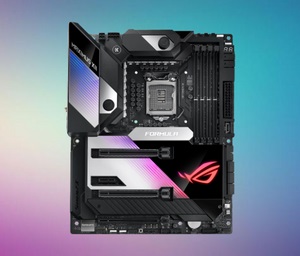 Brand: ASUS |Chipset:Intel Z490 |Socket:LGA 1155 |Form Factor: ATX |Memory: 128 GB DDR4ATX |Memory Speed: 4600 MHz
REASONS TO BUY
✓Easy to handle BIOS
✓Durable board
REASONS TO AVOID
✗No power buttons on board
ASUS ROG Strix Z490-E Gaming has been built on impactful power design. Here power design reflects the power of controlling the modern Intel CPUs with the help of DrMOS and a power controller. Furthermore, the 14+2 power stages ensure the needed energy for the System. Plus, the addition of thermal pads, Dual M.2 Heatsinks, a MOS Fan, and a U-shape Heatpipe guarantees you a critical cooling system.
Again in this version of ASUS, you also find the Dual PCIe 3.0 M.2 characteristic, which provides the flexible and fastest M.2 interface. In addition, ROG AI Overclocking offers you enough overlooking without being super-hot. In this ROG, you will find various customization options that allow you to choose what's best for you. Now talking about the networking in this motherboard, WiFi 6 and 2.5Gb Ethernet support is available, but 10 Gbps is not. You can use USB 3.2 Gen 2 in this Intel LGA 1200 socket-designed motherboard.
Nevertheless, the board's LED effects and postcode screen give a premium look. Overall, this ASUS Rog Strix Z490-E Gaming allows you multiple customization options, which means you can modify the tool the way you want. Another notable point, this board offers you up to 4600MHz RAM in Overclocked Mode, comparatively less than other high-end motherboards.
MSI MEG Z490 ACE Gaming
Best RGB Motherboard for i9-11900k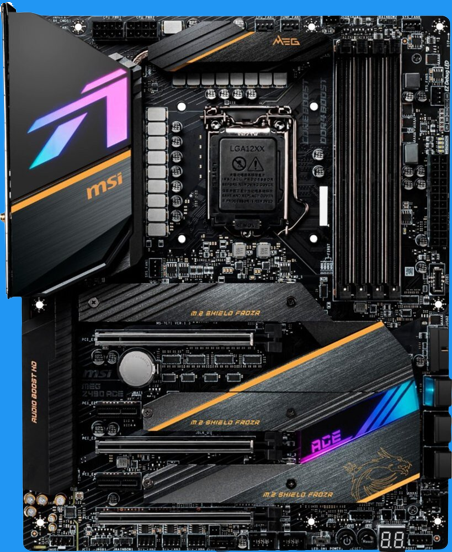 Brand: MSI |Chipset:Intel Z490 |Socket: LGA 1200 |Form Factor: ATX |Memory: 128 GB DDR4 |Memory Speed: 4800 MHz
REASONS TO BUY
✓6-layer PCB design
✓Lightning 20G USB
✓Well overclocked
REASONS TO AVOID
✗No thunderbolt four-port
✗One PCIe slot
The MSI MEG Z490 ACE appears with a pre-installed I/O shielding panel; hence you don't need to hustle with it. However, what makes it our preferred motherboard is 16+1 phases VRM, each with 90A. With this VRM, you overclock efficiently up to 5.2 GHz. You can get many compelling features, but one PCIe slot with no SATA controller can create an issue; otherwise, the tool is A-one even though it delivers up to 4800MHz RAM but still manage to overclock nicely.
Nonetheless, the board has incorporated the functions such as Frozr Heatsink, Zero Frozr, and MOSFET Backplates. With these additions, it can control the heat and launches a comprehensive cooling system. Meanwhile, triple turbo M.2 with M.2 shield enhances the transfer speed for a fast SSD of more than 32 GB/s.
But the fact is that there is only one PCIe slot and no SATA, which puts the question on the advancement of this tool. Also, this motherboard can reach up to 4800MHz RAM in OC mode, less than other competitors. At last, for fast connections, you can use BT 5.1, WIFI 6, Six SATA ports, and three M.2 slots. 2.5 Gbps Ethernet LAN with Gigabit LAN helps gamers have a low latency network and greater bandwidth.
Conclusion
All the motherboards reviewed above have great features and are unique. You will find a variety of choices here depending on the quality, budget, and services. If you want an i9-11900k motherboard that offers extreme performance and versatile options, you should go with GIGABYTE Z590 Aorus Master and MSI MPG Z590 Gaming Carbon WIFI.
Both of these are well-maintained and high-end quality products. You won't regret taking any of them home and setting them into your System. Moreover, these are highly compatible with a processor like i9-11900K. So, you can think about them.
Praise for these two doesn't mean others are not preferable; these depend on their distinctive features. If these fit your requirements, then you should go for them. But, again, the decision is yours and depends on your need. Ultimately, our best motherboard for i9 11900k would be MSI MPG Z590 Gaming Carbon WIFI, as it's perfect in everything. These are the things which we wanted to share with you people for making the best choice ever. We hope you read the whole post and reach a decision that benefits you. Best of Luck!!!
Related Posts:
Frequently Asked Questions
What is the best motherboard for i9-11900k?
Intel i9 11900K is a powerful processor that needs reliable motherboards with high VRM. So, motherboards like Gigabyte Z590 AORUS MASTER, ASUS ROG Maximus XIII Hero, and MSI MEG Z590 GODLIKE Gaming are the best for i9-11900K.
What is the best motherboard for i9 11th Gen?
Motherboards like ASRock Phantom Gaming 9, Gigabyte Z390 Aorus Pro, and ASRock Phantom Gaming 9 are the best for the i9 11th generation.
What motherboards go well with the Intel i9 processor?
Intel i9 processors require motherboards with good cooling solutions and robust power supply. The 11th generation i9 processors also require the LGA 1200 socket motherboard. Each generation requires a different socket motherboard.