The AMD FX 8350 is a seven-year-old processor, but it can be compared with Ryzen 3 CPUs, and there is little difference. These FX-series processors were considered high-end AMD CPUs in 2011 and are the first native eight cores and eight threads CPUs released by AMD. So, we have to select the best motherboard for FX 8350, which performs, has high-power phase VRM, the latest interface, and much more.
Every motherboard came with a specific socket and chipset and was meant to work with some specified processors. So, how can I know which motherboard fits best with my processors, and how can I know about them? We have compiled a list of some of the best motherboards you can get for your AMD FX 8350. As it is a seven-year-old CPU, it's not an excellent choice to go with $300-$400 motherboards, which are four times more expensive than a CPU's. These motherboards listed below come with premium features and don't break the bank.
One thing to be sure of is that this CPU and these motherboards don't support integrated graphics cards, and you have to use a dedicated GPU with them to use it. Some models come with integrated graphics cards but are too old for this processor; I've not included them. These listed motherboards give you high overclocking power with which you can hit the best clock speed and Intel Ivy Bridge i7 processor. So, without further ado, let's check out the list of the best motherboards for FX 8350 and compare them in terms of speed, features, and price.
Quick Shopping Tips:
Processor Socket: The most needed factor to check before selecting the best motherboard for FX 8350 is the CPU's socket compatibility with the motherboard. Three famous sockets are PGA, BGA, and LGA, whereas most Intel CPUs are compatible with LGA while AMD with PGA. BGA has not been used for long, so find your processor's socket type first, then choose a MOBO.
Form Factor: The size of your motherboard is called the form factor. Different form factors exist in the market, such as Mini-ITX, Micro-ATX, and ATX. Check how much space your PC has for the motherboard, and then decide what fits best in the system.
USB Connections: USB connections are significant for your PC usage. The motherboard has different types of USB ports. Such as, the USB 3/3.1 Gen 1 is slower than USB Gen 2 3.1/3.2. Also, the latter has double the bandwidth as Gen 1. Furthermore, the MOBO that supports Type-C USB allows the latest devices, such as phones, to make connections.
Cache: Cache is the type of memory located near the processor. It helps the CPU trace the data, applications, and software quickly. The more cache a MOBO has, the fast CPU will detect the instructions. 8MB cache is significant, whereas 2 to 4MB is not preferable.
Next-Generation Networking: Nowadays, the motherboard has next-generation support for wired and wireless connections. There are M.2 drive, HDMI drive, and LAN ports for wire connections. At the same time, the support such as WIFI 6 and Bluetooth 5.0 as wireless connections are cherries on the cake.
---
MSI 760GMA-P34
Best Budget Motherboard for FX 8350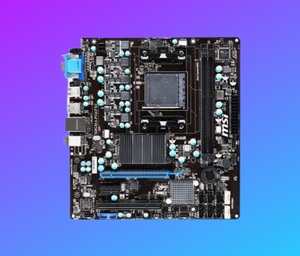 Brand: MSI | Chipset: AMD 760G | Socket: AM3+ | Form Factor: Micro ATX | Memory: 16 GB DDR3 | Memory Speed: 1866 MHz
REASONS TO BUY
✓Most affordable motherboard
✓Fits best for AMD Fx 8350
✓Gives great overclocking power to Fx-series CPUs
✓Plenty of interface ports
REASONS TO AVOID
✗With dual-slot GPU, you can't use PCIe x1 slot
✗The color scheme is not good, in my opinion
✗Only 16GB maximum memory
✗No heatsink for VRM
MSI motherboards are built with Military Class components and are available for a low price, and MSI 760GMZ-P34 is the best example. Spending $200+ on the motherboard to pair it with a seven-year-old processor doesn't look right. MSI 760GMA-P34 is an entry-level motherboard and ideal for AMD FX 8350 as this max out the overclocking limits of processor and memory and is the best bang for the buck motherboard. It has an updated BIOS version, which is easy to use and supports many overclocking modes for AMD FX CPUs. It is a micro-ATX motherboard with a coffee-colored PCB with some blue components.
MSI 760GMA-P34 doesn't offer premium features; however, it has everything a gaming PC needs for its price. It has two DDR3 RAM slots with maximum memory support of 16GB at a clock speed of 1333Mhz and is overclockable up to 1866Mhz (OC). The graphics card has one PCIe x16 slot, one PCIe x1 slot, and one PCI slot for expansion cards to increase the interface ports of the motherboard. This motherboard doesn't support multiple AMD or Nvidia GPUs in any way, and you need a dedicated GPU to run it. It has 2 USB 3.0, four USB 2.0 on the rear side, HD audio, and a high-speed ethernet port on the I/O panel. This motherboard is perfect overall, but we found everything wrong with it.
With any dual-slot graphics card, you can't utilize the PCIe x1 slot because GPU blocks it due to its small size. Also, 16GB ram is enough for a modern gaming PC, but you can't do it with this motherboard if you want to go beyond this. Also, there is no heatsink on the VRM, and if you're going to overclock your CPU, I recommend you buy an aftermarket heatsink. This is a micro-ATX motherboard and can easily fit into any mid-tower chassis. MSI 760GMZ-P34 is perfect in terms of price, performance, and other aspects. If you are low on budget and don't want to spend much on motherboards, this is the best choice. But be sure that you have to compromise with the premium features other boards offer
GIGABYTE GA-990FXA-UD3
Best High-End Motherboard for FX 8350
Brand: Gigabyte | Chipset: AMD 990FX/SB950 | Socket: AM3+ | Form Factor: ATX | Memory: 32 GB DDR3 | Memory Speed: 2000 MHz
REASONS TO BUY
✓4x PCI Express x16 slots (2x running at x16 + 2x running at x4)
✓Support for AMD CrossFire and Nvidia SLI
✓2x eSATA and FireWire ports
✓Cheaper
REASONS TO AVOID
✗The software could be better
✗No RGB Illumination
MSI 970 Gaming
Best Enthusiast Motherboard for FX 8350
Brand: MSI | Chipset: AMD® 970+SB950 | Socket: AM3+ | Form Factor: ATX | Memory: 32 GB DDR3 | Memory Speed: 2133 MHz
REASONS TO BUY
✓Excellent overclocking capabilities
✓MSI high-quality components
✓High-speed audio and ethernet controller
✓SLI and Crossfire support
REASONS TO AVOID
✗Minimalist feature set
✗Lacks support for new interfaces
✗No hardware buttons
✗Only two USB 3.0 ports on the I/O panel
MSI motherboards and graphics cards are so popular in the market, and the main reason behind their success is their high-quality products. The quality components increase the life span of products, and along with performance, they also give aesthetics. MSI 970 Gaming is the mid-range CPU and comes in an iconic black-colored PCB with some excellent red touch on it, including the MSI badge on the chipset heatsink, which provides an attractive look loved by every gamer. It is not a new motherboard, but MSI puts a set of features, including SATA 6GBPS and plenty of USB 3.0 ports, in it. This motherboard supports every AMD AM3+ socket processor and offers good overclocking options. Also, it is backward compatible with Phenom and other series processors.
It has two PCIe x16 slots, two PCIe x1 slots, one PCIe x16 x8 mode slot, and one PCI slot for expansion cards. It has two USB 3.0 ports for the front, two USB 3.0 ports for the rear, six USB 2.0 ports for the front, eight USB 2.0 ports for the back, and six audio ports on I/O. You can install multiple AMD and Nvidia graphics cards on it as it supports SLI and Crossfire. It comes with Click BIOS, which is easy to use, and you can easily tune your system with just a few clicks. This motherboard has a minimalist feature set and lacks support for the new interfaces, including USB Type-C and Type-A. It has no hardware buttons, and only two USB 3.0 ports are on the I/O panel, which is not enough. Also, there are limited PCIe lanes which limit the multiple graphics cards to run at x8 mode.
Like ASUS 970 pro, its competitor comes with M.2 SSD slot and USB 3.1 support, but this motherboard lacks these features, and it would be nice to see such things in it. That isn't nice with this motherboard, and we found nothing else to mention. MSI 970 Gaming has excellent overclocking capabilities and is one of the best motherboards for price and performance. A stock heatsink can run the AMD FX 8350 at 4.2 GHz at its maximum turbo speed. This motherboard comes at a surprisingly low cost and is the best for bang buck motherboard, and comes with premium features that enthusiasts' motherboards offer. It has high-quality audio capacitors, studio-class sound quality, and a high-speed ethernet controller for lag-killer gaming.
ASUS 970 PRO GAMING
Best Gaming Motherboard for FX 8350
Brand: ASUS | Chipset: AMD 970/SB950 | Socket: AM3+ | Form Factor: ATX | Memory: 32 GB DDR3 | Memory Speed: 2133 MHz
REASONS TO BUY
✓Highly durable components
✓Digi+ VRM voltage-regulator module is one of the finest in the industry
✓4 LEDs indicate problems with the CPU, memory, graphics card, or boot device
✓RGB LED Illumination
REASONS TO AVOID
✗Expensive
We're going to look at the ASUS 970 Pro Gaming; it isn't a new motherboard, but ASUS has put some excellent features on it. It comes with added USB 3.1 and M.2 SSD. Another interesting motherboard feature is the Aura feature which allows the user to customize the onboard RGB LEDs' color and rhythm. The power section is 8 phase, but it uses a 7+1 layout instead of the usual 6+2 layout. This means it has 7 phases dedicated to the processor and one for the CPU-NB. This is one area where mid-range motherboards usually suffer and limit their overclocking abilities. The 970 PRO has RGB LED illumination under the south-bridge heat spreader as part of the motherboard's "AURA" lineup.
Including presets that will give a pulse to the beat of the music you're listening to or even set it so the color scales according to the temperature of the CPU. Right off the bat, This motherboard provides enough power for a decent overclock with its 8-phase design. ASUS has integrated "superior chokes" that help the CPU operate up to 13.6% cooler for extra durability and 10 thousand capacitors from Texas instruments, engineered to resist extreme temperature variations ranging from -70°C to 125°C. The BIOS has all the options, such as Load Line Calibration, needed to help maintain a steady voltage and CPU/CPU-NB Current Capability when just a bit of power is required.
This is coupled with ASUS's Game First IV Beta software that optimizes traffic for lag-free online gameplay and LANGuard that provides added protection to the LAN connection for 1.9X-greater tolerance to static electricity and 2.5X-greater protection (up to 15KV) against surges. SupremeFX is an ASUS-exclusive technology for near-loss-less audio delivered by the Realtek ALC1150 codec. With its EMI cover and shielded design, ASUS 970 PRO Gaming motherboard is equipped with premium Japanese-made Nichion capacitors for clarity and fidelity and a 300Ω headphone amplifier. The 970 PRO Gaming is also equipped with next-generation storage interfaces such as USB 3.1 and M.2 SSD for improved transfer times. The 970 PRO Gaming has two USB 3.1 Type-A ports on the back I/O panel that yield 10Gbps.
ASUS M5A99FX PRO
Best AM3+ Motherboard for FX 8350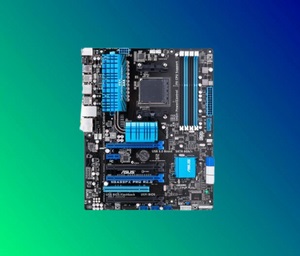 Brand: ASUS | Chipset: AMD 990FX | Socket: AM3 | Form Factor: ATX | Memory: 32 GB DDR3 | Memory Speed: 1866 MHz
REASONS TO BUY
✓Excellent performance
✓High base clock memory support
✓Plenty of connectivity options
✓Extended heatsink over the VRM
REASONS TO AVOID
✗Wrong placement of PCIex16 slots and can't utilize all slots
✗There are some other best options available for a low price
✗The color scheme is not so good, but that's minor in front of its performance
The next motherboard on the list is the ASUS M5A99FX Pro which comes with many bells and whistles. It's an AM3+ to build a budget-friendly AMD-based computer and do some lightweight operations. As the AM3+ processors don't have integrated graphics, ASUS has manufactured this board while considering this fact. Therefore, this motherboard has all the necessary features to connect a graphics card and use its performance potential. Overall, this has all the required features to give you stable output and compatibility with several chips.
AMD's FX-series processors are purposefully made for users who want to build a computer under a $1000 budget. It has memory specifications precisely the same as the Gigabyte GA-990FXA-UD3 with dual-channel memory architecture to accommodate up to 32GB DDR3. But the memory is better with a 2133MHz clock speed which is 133MHz more. It's even more affordable than the ASUS M5A99FX Pro and has fourteen USB ports, seven SATA 3.0 ports, one eSATA 2.0 connection, five PCIe 2.0 connectors, and more in one spot.
Remember, there is no WiFi or Bluetooth for wireless connectivity. But you can use the Realtek RTL8111F LAN Ethernet controller to get up to 1Gb/s of memory speed which is enough for such a well-aged motherboard. Extended VRM heatsinks support a 6+2 digital power phase design to provide effective and smooth power to the components without facing thermal issues. For your information, there is enough area to fit most heatsinks and closed-loop water cooling setups. Overall, this board is suitable for building an AM3+- based system.
ASUS M5A99X EVO
Best Performance Motherboard for FX 8350
Brand: ASUS | Chipset: AMD 990X/SB950 | Socket: AM3 | Form Factor: ATX | Memory: 32 GB DDR3 | Memory Speed: 2133 MHz
REASONS TO BUY
✓Support for AMD Bulldozer CPUs
✓Easy to overclock
✓ASUS UEFI BIOS
✓3-year manufacturer's warranty
REASONS TO AVOID
✗Price and almost similar to other ASUS models
✗With multiple GPUs, PCI slots are limited to x8 mode
✗It lacks some accessories for the front panel
The ASUS M5A99X EVO is an excellent alternative to the motherboard mentioned above, both of which are from the same line-up. The design and features of this motherboard are similar to M5A99X Pro; however, one PCIx16 slot is replaced by PCIe x1, and there are some other minor changes. This motherboard doesn't have an integrated graphics card the CPU has, so you have to consider a dedicated GPU. Also, with ASUS UEFI BIOS, you can easily overclock your processor and support AMD Bulldozer CPUs.
Overall, it's the best-performance motherboard for fx 8350 that is enriched with all features a gaming PC demands, and ideal is ideal for AMD FX 3850. ASUS motherboards are well known for their technologies, and this motherboard is also packed with them. If you like to use high-frequency DIMMs, it supports dual channels of up to 2133Mhz (OC) and maximum memory of up to 32GB, which is enough for modern games. For graphics cards, it has two PCIe x16 Gen2 slots, two PCIe x1 slots, one PCI x16 Gen2 slot with x4 mode, and one PCI slot for expansion cards. Also, you can use multiple AMD and Nvidia graphics cards as it supports quad Crossfire and SLI technology. On I/O has two USB 3.1 Gen1 ports and eight USB 2.0 ports and, as a storage interface, six SATA 6GBPS and two SATA 3GBPS connectors.
ASUS M5A99X EVO is not so cheap these days, and there is little difference compared to Sabertooth 9900Fx. This motherboard limited the PCIex16 slots to x8 mode when running dual graphics cards and perfectly supported quad GPU. It also lacks accessories to use the front panel USB slots, although it is packed with features that can't be seen on other motherboards for the same price. One of the best things to consider in this motherboard is support for AMD Bulldozer CPUs, and it is straightforward to overclock with ASUS UFEI BIOS. ASUS M5A99X EVO is a motherboard with three years of manufacturer warranty and is one of the best choices for AMD FX 8350. The power phase design of VRM is excellent, and it will extend the overclocking power of this motherboard.
Conclusion
In my opinion, it's not good to consider expensive motherboards for seven years old hardware. AMD FX 8350 was regarded as a beast in its time, but with improvements in technologies these days, this CPU can be used as a low-budget processor. Also, this CPU doesn't have integrated graphics, and all the motherboards mentioned above also don't have GPU; some models are expensive, and we don't need that. The MSI 760GMA-P34 is the best motherboard for FX 8350, which is decisive for a very affordable price. You can pair it with any FX series processor, giving you the same performance as others.
Overall, it will not provide aesthetics, but you can use it for performance. On the other hand, MSI 970 Gaming is quite expensive from this motherboard but gives performance and fancy looks to your PC. This motherboard expands the overclocking power of AMD FX 8350, and you can get the full performance out of this processor. From ASUS, we have some mid-range motherboards, including ASUS M5A99FX PRO and ASUS M5A99X EVO, but there is little difference between these motherboards. We can call M5A99X EVO a revised version with some improvements, as both are from the same line-up.
Related Posts:
Frequently Asked Questions
What motherboard is compatible with AMD FX 8350?
Gigabyte's GA-990FXA-UD3 supports AMD FX/8350. It has an advanced 8+2 VRM power design and above-average power performance.
Is the FX 8350 good for gaming?
Well, it is still good for gaming, and you can play on 1080p with recent games in reasonable settings. It can give you a console-like experience, but 2600 is much more recommended.
What is the max temp for AMD FX 8350?
AMD has been criticized before because of the temperature issues of their GPUs, but AMD claims that the max average temp of AMD FX 8350 is 61۠.
What is the best Am3+ motherboard?
ASUS Crosshair V Formula-Z is considered the best Am3+ motherboard with significant heat dissipation, allowing great overclocking with FX 8350 and preventing other parts from heat issues.