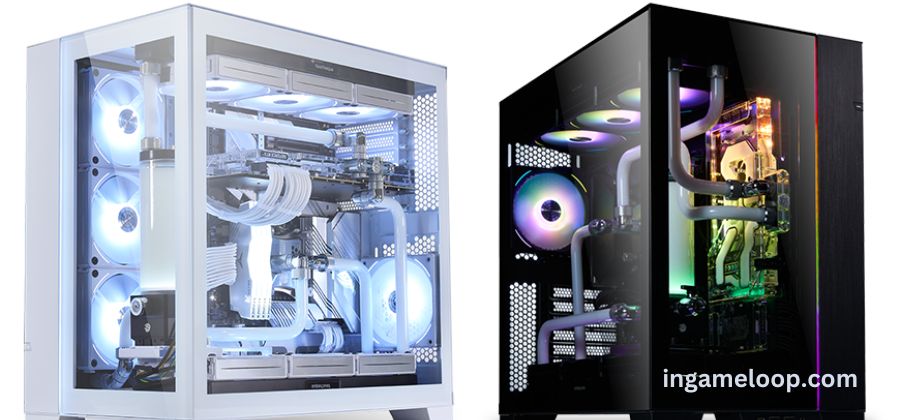 The renowned PC hardware brand, Lian Li, has set a new standard in case design with the release of the O11D EVO XL, now available in both striking black and elegant white options. This latest addition to Lian Li's lineup builds on their legacy of innovation and quality craftsmanship.
The O11D EVO XL introduces a dual-mode feature – Normal Mode, a conventional layout, and Reverse Mode, showcasing an inverted motherboard configuration. This unique design allows for a seamless 180-degree rotation of the chassis, offering users the ability to effortlessly transform the look of their builds. This innovative feature further underscores Lian Li's commitment to providing a distinctive building experience.
Cooling performance is a focal point for the O11D EVO XL. The case incorporates a modular motherboard tray that can be swiftly removed for easy installation. It offers three height adjustments, ensuring optimal fan and radiator clearance both at the top and bottom. The top, bottom, and side brackets are engineered to support a combination of 3x 140mm fans or 420mm radiators concurrently, guaranteeing exceptional cooling capabilities. The removal of the radiator brackets streamlines the installation process. In the lower motherboard mode, the rear of the case accommodates up to 2x 120mm fans.
One of the standout features is the unmatched customization options the O11D EVO XL offers. The removable front pillar, along with the absence of side bands on the front and side tempered glass panels, allows for an unobstructed view of the PC's internals.
Additionally, the case is fully reversible and includes a relocatable I/O module with three supported locations – front, side, and rear. Users also have the option to alter the GPU mounting position to either vertical or upright, providing greater flexibility in setup.
Available for pre-order from September 7th, 2023, the O11D EVO XL starts at £234.95 for the black variant and £244.99 for the white option. Enthusiasts can secure their units through Overclockers UK in the UK, Newegg in the US, and Scorptec Computers in Australia. With its innovative features and striking design choices, the O11D EVO XL is poised to redefine PC case standards and elevate the building experience for enthusiasts worldwide.