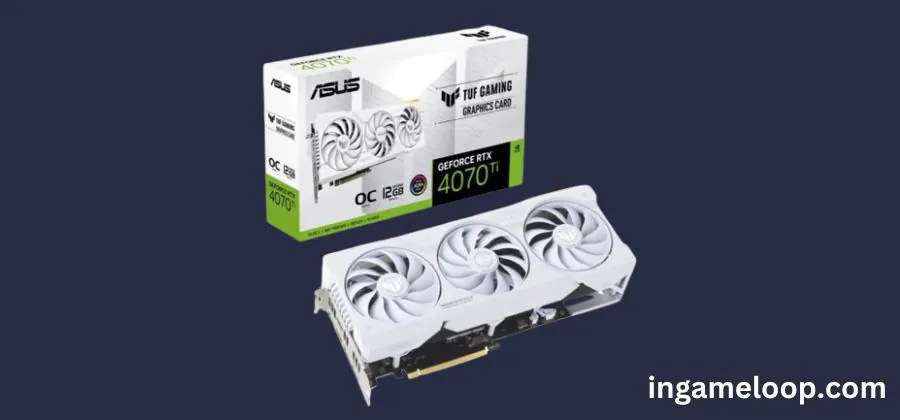 Asus, a renowned name in the realm of high-performance gaming hardware, has recently unveiled its latest offering, the RTX 4070 Ti TUF Gaming White OC Edition graphics card. This release marks a significant addition to Asus's TUF gaming lineup, known for its exceptional reliability, advanced cooling solutions, and factory overclocking capabilities. The distinguishing feature of this new product is its striking white façade, setting it apart from its predecessors.
The Asus TUF Gaming GeForce RTX 4070 Ti White OC Edition is essentially a sibling to the TUF Gaming GeForce RTX 4070 Ti OC Edition, differing primarily in its white cooling shroud and backplate. Despite this aesthetic shift, the white version retains the use of a black printed circuit board. This board houses a meticulously designed 9+4-phase voltage regulating module, meticulously crafted to ensure Nvidia's AD104 GPU, armed with an impressive 7680 CUDA cores, receives a consistent and clean power supply, optimizing its overclocking potential.
Regardless of its color, this GPU boasts an impressive boost clock of 2760 MHz, surpassing Nvidia's stock clocks set at 2610 MHz. The 12GB of GDDR6X memory maintains a standard data transfer rate of 21 GT/s, ensuring seamless performance. Power is efficiently drawn through a 12VHPWR connector with the capacity to deliver between 450W–600W, though Asus has opted not to disclose the exact power limit of the TUF Gaming RTX 4070 Ti.
Complementing its powerful specifications, the graphics card comes equipped with a robust 3.25-slot three-fan cooling system. This cooling solution, despite the card's relatively modest overclock, proves more than capable of efficiently managing the heat generated by a heavily overclocked GPU.
End-user overclocking remains a nuanced practice, with success often dependent on various factors. Nevertheless, the GeForce RTX 4070 Ti remains a top-tier graphics card, even when operating at factory settings.
One standout feature of the TUF Gaming GeForce RTX 4070 Ti White OC Edition is its additional HDMI output. This AIB proudly boasts three DisplayPort connectors and two HDMI 2.1 connectors, a boon for users seeking to connect dual HDMI displays. While only four outputs can be utilized simultaneously, the HDMI 2.1 ports offer an impressive 42 Gbps of data throughput, dwarfing the 25.92 Gbps offered by DisplayPort 1.4a.
In line with contemporary trends in gaming hardware, the Asus TUF Gaming GeForce RTX 4070 Ti White OC Edition is equipped with addressable RGB LEDs. However, the lighting design on TUF series cards tends to be more understated compared to Asus's ROG Strix line, emphasizing a refined aesthetic.
Asus's recent introduction of the white GeForce RTX 40-series TUF board has generated significant interest. As of now, the product is not yet available, and its recommended retail price remains undisclosed. In the meantime, the standard (black) version of the graphics card is priced at $849. For those seeking an economical alternative with the same GPU, the Zotac RTX 4070 Ti Trinity OC is currently available at $769. In the fast-evolving landscape of gaming hardware, Asus's latest release demonstrates their commitment to pushing boundaries and offering gamers top-of-the-line options. The RTX 4070 Ti TUF Gaming White OC Edition stands as a testament to Asus's dedication to delivering high-quality, aesthetically pleasing, and high-performance graphics cards for the gaming community.
Related:
Overclocking GALAX GeForce RTX 4090 HOF has been overclocked to 3.85 GHz, breaking another 14 world records