When purchasing a processor with integrated graphics, these are a bit more expensive than the typical processor. However, Team Red has a solution for us, the AMD Ryzen 5 3400G. It's an inexpensive AM4-based APU to build an entry-level multipurpose custom rig with impressive integrated graphics. Like AMD's latest third-generation stack, the 5 3400G is built around 7nm Zen 2 core architecture. Unlike the rest of the chips in the family, this one doesn't upgrade everything. Instead, it shares some same but a few different features from the previous Ryzen 5 2400G processor. 
Overall, this is a great APU to build an entry-level PC without spending much. But you will need the best GPU for Ryzen 5 3400G to put it into heavy-duty gaming or content creation. Although it has integrated graphics, these aren't as good to deal with the current-era load-intensive workloads. A dedicated graphics card gives an extra performance that enables your PC to go through all the hefty games and productivity software. But it's not an easy task to find a suitable one. We have chosen a few graphics cards from the many we tested. Let's explore the post up to the end!
Quick Graphics Card Shopping Tips:
Selecting the best GPU for Ryzen 5 3400G is a time taking task. You have to read several articles to make the best pick. For our customers' ease, our team developed a must-have factor list to easily view and analyze a graphic card. The following are those crucial factors:
Performance: The performance of a GPU must complement the processor for an appealing gaming experience. Otherwise, the bottleneck will ruin your activity which often happens due to the inadequate performance of the graphics card to the processor. There should be harmony between every component in the operating state.
Color & Aesthetics: Our eyes are always attracted to beautiful art and creativity. Just like the graphics card would be more appealing if we use well-contrasted colors, dimensions, and organized aesthetics. Cards with top-notch color and aesthetics will increase the value of your rig in your mind due to its beautifulness.
Video RAM: Video RAM is just like normal RAM, helping boost the capability of a graphics card to fetch data. Ultimately, it results in enhancing the working speed and efficiency. For gaming purposes, 4GB ram is required to get 1080p visual quality. For other premium experiences and high-quality graphics, you may go up to 16GB and more.
Cooling: If you are a pro user of computers, you would be familiar with the cruciality of cooling and cooling systems for handling a high workload. This factor plays a chief role in running a graphics card for a longer span of time. Kindly check the cooling system and its accuracy level to get the optimal amount of playing games.
Budget: Budget is also a key factor in deciding the graphics card and its working capability. Make sure your card's performance fits well with your budget. Furthermore, the buyer's reviews are really practical for examining the real-time card usage experience. Positive reviews mean you can go for your selected graphics card.
Our Recommendations For Best GPU for Ryzen 5 3400G
---
EVGA GeForce RTX 2070 Super
Best Overall GPU for Ryzen 5 3400G
Brand: EVGA |VRAM: 8 GB |Base Clock: 1605 MHz |Boost Clock: 1800 MHz |Power Consumption: 215W |Power Supply: 650W
REASONS TO BUY
✓The price is very worth it.
✓Its overlocking performance as compared to others is good
REASONS TO AVOID
✗Backplate is very lack
It has been a long time since the EVGA's Black graphics cards are on the market due to their affordable prices, excellent performance, impressive cooling, and overall design. One such is the EVGA GeForce RTX 2070 Super. It's a mid-range graphics solution with a perfect combination of adequate thermal performance, the fastest clock speeds, and an eye-catching design. The first thing that will catch your attention is its front look with a silver and black blend and a metal backplate for protection.
Like the other cards in the RTX 20-series stack, this one is powered by Nvidia's all-new Turing architecture and has the TU106 GPU unit. Such a combination gives you a new level of realistic graphics, excellent speeds, and extreme power efficiencies. On top of that, the RTX platform enables the GPU to use real-time ray-tracing technology, programmable shading cores, and AI-based graphics enhancements via the tensor cores. This is perfect if you're looking for an all-rounder GPU in the 8GB GDDR6 category.
When EVGA said it's faster than the GeForce GTX 1080, we thought, why not test it? Well, the results are totally supporting the brand's statement. It beats in all resolution levels, 1080p, 1440p, and 4k. You can efficiently run most games with a three-digit fps on 1080p, 80+ fps on 1440p, and even 50+ fps on 4k resolutions. This GPU has not only spectacular performance but also thermal management. This dual-slot card has a custom PCB, iCX2 cooler, hydro-dynamic bearing fans, RGB, and more.
ASUS Dual NVIDIA GeForce RTX 2060 Super EVO
Best Premium GPU for Ryzen 5 3400G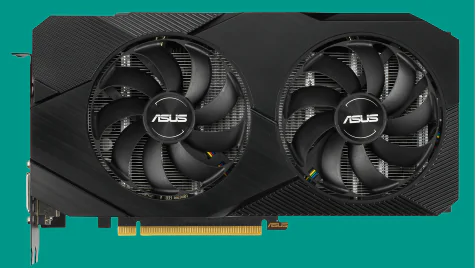 Brand: ASUS |VRAM: 8 GB |Base Clock: 1470 MHz |Boost Clock: 1725 MHz |Power Consumption: 200W |Power Supply: 550W
REASONS TO BUY
✓Its performance of Quad HD is great
✓It has future-proofed for ray tracing support
✓The overlocking potential performance is also decent
REASONS TO AVOID
✗RX5700 is cheaper than this GPU and offers superior performance
✗It only supports a few games ray tracing and DLSS
ASUS is the most renowned third-party graphics card manufacturer all around the globe. Although it manufactures AMD-based GPU, its Nvidia-based graphics cards are more popular among tech enthusiasts. Today, we have the ASUS Dual Nvidia GeForce RTX 2060 Super Evo on the list to review some essential GPU improvements in the 20-series lineup. This graphics card has higher clock speeds and a better cooling design than the original, providing up to 25% more performance in most games.
In addition, the Nvidia Turning graphics architecture enables it to give up to six times speedier performance than the previous-generation RTX 10 series version. The icing on the top is the effective real-time ray tracing performance with tensor cores to give excellent AI-based graphics improvements. Overall, this graphics card leaves every rival behind with an advanced cooling design taken from some flagship models and improved performance. It also has a style advantage over the other cards to be everyone's first choice.
This graphics card can quickly provide up to 4k 30+ fps without issues. But it's more suitable for 1440p graphics with 75+ fps or 1080p with 90+ fps in most games. You must remember its performance statistics when purchasing one. Interestingly, such a performance is very much influenced by its design. The 2.7 slot cooler has a dual Axial Flow fan setup combined with small fan hubs and longer fan blades to enhance overall airflow. The bulletproof Auto-Extreme manufacturing to improve build quality.
ZOTAC Gaming Geforce GTX 1660Ti
Best Budget GPU for Ryzen 5 3400G
Brand: ZOTAC |VRAM: 6 GB |Base Clock: 1500 MHz |Boost Clock: 1860 MHz |Power Consumption: 120W |Power Supply: 450W
REASONS TO BUY
✓Its sound is quiet even under load
✓Design is very compact, can be fit easily
✓Energy consumption capacity is deficient
✓Price is very appropriate
REASONS TO AVOID
✗The overlocking potential is not good enough
The Zotac GeForce GTX 1660 Ti with 1536 shader units and 6 GB of GDDR6 VRAM. That is why the GTX 1660 Ti is very suitable for the 1080p game. The Zotac GPU is very compact and measures only 17.3 cm (~ 6.8 in), which is why it can be installed in tiny cases. Zotac's GeForce GTX 1660 Ti Twin Fan complies with Nvidia's specifications for the GTX 1660 Ti, which means Zotac has chosen not to exceed this model, which is our best GPU for Ryzen5 3400G. Therefore, the maximum stabilization clock is up to 1770 MHz, while some GTX 1660 Ti models can raise their basic clocks higher than 1800 MHz. It's considered the best in the budget due to its cheap price tag.
However, the model of GTX 1660 Ti does not come with the latest features such as DLSS (Deep Learning Super Sampling) and Real-Time Ray Tracing. However, there are some structural improvements regarding floating points and overall performance. These tasks can now be performed simultaneously. Other notable features include Adaptive Shading, integrated cache, DisplayPort 1.4, HDMI 2.0b, HDR, Simultaneous Multi-Projection (SMP), and H.265 encoding and decoding (PlayReady 3.0). The Zotac GeForce GTX 1660 Ti performs much better on gaming benches than on artificial benchmarks. Here, it handles the GTX 1060 and is very close to the GTX 1070 performance.
We increased the core clock by 100 MHz and the memory size by 800 MHz. This resulted in a maximum memory bandwidth of 326.4 GB/s and a high-intensity clock of up to 1870 MHz. After introducing GPUs based on Turing, graphics cards based on Pascal began to run out of stock. The Nvidia GeForce GTX 1660 Ti is a video card in Turing without Raytracing or tensor cores. The GTX 1660 Ti also does not support DLSS, as this is where Nvidia decided to draw the line between the GTX and the RTX series. We received a GPU sample from our partner Zotac because Nvidia does not produce its GPU version under its Founders Edition version.
XFX Rx 5700 XT Raw II 8GB
Best Gaming GPU for Ryzen 5 3400G
Brand: XFX |VRAM: 8 GB |Base Clock: 1730 MHz |Boost Clock: 1980 MHz |Power Consumption: 265W |Power Supply: 600W
REASONS TO BUY
✓It has a good performance with reference settings
✓Its design is better looking than the older XFX models
REASONS TO AVOID
✗Overlocking is not impressive
The next item on the list is the XFX RX 5700 XT Raw II graphics card. It clearly shows the mastery of XFX in improving the first-party hardware into its better version and giving better overall output. If we compare it with the original AMD Radeon RX 5700 XT, the Rax II has better clock speeds, more overclocking headroom, and improved overall performance. No donut, it's perfect for gaming, but it simultaneously lags in some other aspects. Its thermal management isn't' seem as good as other XFX cards.
The RAW II is powered by AMD's 2nd Gen RDNA graphics architecture and has Navi 10 GPU unit to perform graphics processing tasks. It has the exact memory specifications as the original version but better clock ratings and overclocking. Now, you can take the clock speed up to the 1980MHz, which is way better than the 1905MHz boost clock in the AMD version. But there is no real-time ray tracing technology, so you may have to compromise on some graphics quality-related aspects in some cases.
But what about the performance? For your information, we have tried out best to check whether the brand's statement "build for the gamer" is true. Well, it's true if you play games anywhere between 1080p to 2k resolution. You can perfectly mix the 1440p graphics with 70+ fps while having a three-digit refresh rate. Undoubtedly, you can play games at 4k graphics but may face sudden lags while doing so—it's not recommended. However, the thermal design isn't as impressive as the rest of the cards.
Conclusion
An APU like the AMD Ryzen 5 3400G has good integrated graphics to deal with lightweight graphics workloads. But you need the best GPU for Ryzen 5 3400G to put this mid-tier processor into heavy-duty gaming and content creation. A good-quality graphics card is necessary for a PC to deal with graphics-intensive workloads. But finding one isn't a straightforward task. You must consider several factors and aspects to find a good graphics card with excellent performance and enough thermal management capabilities.
Suppose you want a top-tier graphics card to get extreme gaming performance. In such a case, you must check EVGA GeForce RTX 2070 Super, and XFX Rx 5700 XT Raw II 8GB; both are all-rounder cards for gaming and productivity tasks. In contrast, if you're good with a stable 1440p graphics resolution with 60+ fps, you can use either ASUS Dual Nvidia GeForce RTX 2060 Super Evo or the EVGA GeForce RTX 2070 Super. All users with an affordable budget can check out the ZOTAC Gaming Geforce GTX 1660Ti. You can get good performance without spending much.
Frequently Asked Questions
Which GPU is best for Ryzen 5 3400G?
The ASUS Dual Nvidia GeForce RTX 2060 Super Evo is one of the best graphics cards to pair with the AMD Ryzen 5 3400G. It provides almost 25% more performance than the original Nvidia GeForce RTX 2060 Super plus and has adequate thermal management capabilities.
Can I use graphics card with Ryzen 5 3400G?
Yes, you can pair a graphics card with the Ryzen 5 3400G processor. Although it has integrated graphics, these aren't that good for dealing with heavy-duty games and productivity software. Therefore, you must pair a dedicated graphics card to deal with such hefty workloads.
Is Ryzen 5 3400G good with 3060?
Yes, the AMD Ryzen 5 3600G is good to pair with the Nvidia GeForce RTX 3060 or some of its third-party equivalent. This combination can provide FHD in-game resolution while maintaining 60+ fps and a three-digit refresh rate. Also, you won't feel any issues while completing productivity assignments.
Can I use RTX 3050 with Ryzen 5 3400G?
Yes, you can pair the Nvidia GeForce RTX 3050 or its equivalent with the AMD Ryzen 5 3400G processor. This combination falls above the mid-tier mark and can give impressive results in most current-era games.