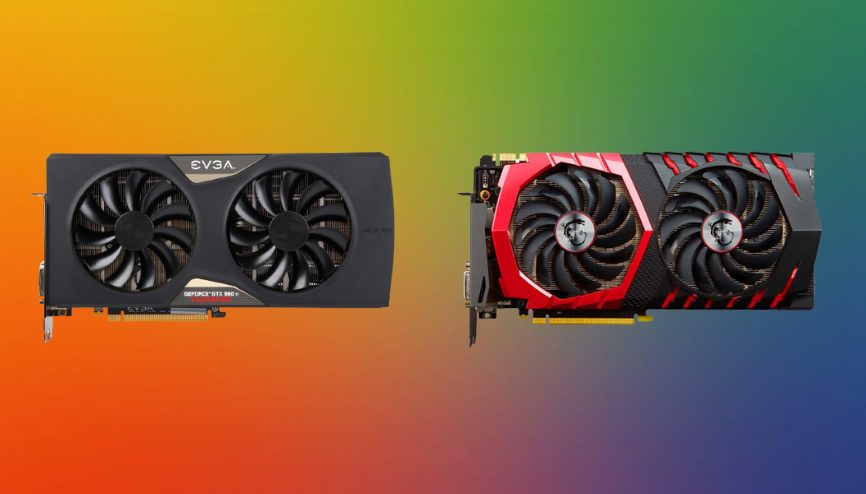 NVIDIA has been releasing new graphics cards every two to three years, making the older generation cards obsolete. However, the high-end graphics cards from previous generations are still great for many people. So, we will discuss two popular graphics cards these days, the GeForce GTX 1070 and the GeForce GTX 980 Ti.
Key Takeaways
GTX 980 Ti and GTX 1070 are two high-end graphics cards that offer similar performance in most games at 1080p and 1440p resolutions.
GTX 980 Ti is an older card that was released in 2015, while GTX 1070 is a newer card that was released in 2016.
GTX 1070 has a lower power consumption, lower temperature, and lower noise level than GTX 980 Ti, making it more efficient and quieter.
GTX 1070 also has more VRAM (8 GB vs 6 GB) and supports newer features such as DirectX 12, Ansel, and VRWorks, giving it an edge in future games and VR applications.
However, GTX 980 Ti can still hold its own in some games that favor Nvidia's Maxwell architecture, such as The Division, Hitman, and Ashes of the Singularity.
What's the difference between GTX 980 Ti and GTX 1070
The main difference between GTX 980 Ti and GTX 1070 is their architecture. Let's look at the details of the architecture of these graphics cards. The GeForce GTX 1070 belongs to the 1000-series graphics cards that the current Turing-based RTX 2000-series graphics cards succeed. The 1000-series graphics cards were based on the Pascal architecture, proving to be a massive improvement over the 900-series graphics cards. The graphics cards' efficiency was increased so much that GTX 1070 provided similar performance to the GTX 980 Ti, while the powerful models of the 1000-series, like the GTX 1080 and GTX 1080 Ti, were a lot more powerful.
On the other hand, GTX 980 Ti belongs to the 900-series based on the Maxwell 2.0 architecture. GTX 980 Ti was the flagship card of the generation. It was almost as powerful as the NVIDIA Titan X. These graphics cards significantly improved over the Kepler and Maxwell 1.0 architecture. Still, their VRAM amount could be more impressive in these times. The technical specifications of both graphics cards can be seen in the chart below.
| Specifications | GeForce GTX 1070 | GeForce GTX 980 Ti |
| --- | --- | --- |
| Architecture | Pascal | Maxwell 2.0 |
| GPU Chip | GP104-200-A1 | GM200-310-A1 |
| Process Size | 16 nm | 28 nm |
| Base Clock | 1506 MHz | 1000 MHz |
| Boost Clock | 1683 MHz | 1076 MHz |
| Memory Clock | 2002 MHz | 1753 MHz |
| Memory Size | 8 GB | 6 GB |
| Memory Type | GDDR5 | GDDR5 |
| Memory Bus | 256-bit | 384-bit |
| Bandwidth | 256.3 GB/s | 336.6 GB/s |
| Shader Processing Units | 1920 | 2816 |
| Texture Mapping Units | 120 | 176 |
| Render Output Units | 64 | 96 |
| Streaming Multiprocessors | 15 | 22 |
| TDP | 150 Watts | 250 Watts |
| | | |
As you can see here, the GeForce GTX 980 Ti is leading the GeForce GTX 1070 in almost all fields apart from the clock rates, and that is where the game changes. The 1000-series graphics cards came with a lot faster clock rates, and thanks to NVIDIA GPU Boost 3.0, they ran at around 2000 MHz of real-time core clocks. Core clocks govern many hardware components. The clocks directly affect the shader processing units, render output units, and texture mapping units. The faster the clocks are, the faster these components will work. The chart shows that GTX 980 Ti has a low base clock of 1000 MHz while the GTX 1070 offers more than 50 percent improvement at around 1500 MHz of core clock.
Moreover, the real-time clock difference is even more. As for the memory, GTX 980 Ti does offer faster memory, thanks to the much wider 384-bit memory bus; however, the VRAM amount is lower than the GTX 1070 by 2 GB. Moreover, GTX 1070 supports the improved compression technique, Delta Color Compression, which mitigates the difference between the memories of both graphics cards. Regarding efficiency, GTX 980 Ti has 28 nm lithography, while GTX 1070 has 16 nm. This makes the GTX 1070 far more efficient than GTX 980 Ti, to the point that it consumes almost a hundred Watts less than the latter.
Good Points of GTX 1070
Better support in games
Can provide RayTracing in games
Lower thermals
Has lower power requirements
Easily available
Aesthetically pleasant variants
Has more VRAM than GTX 980 Ti
---
Good Points of GTX 980 Ti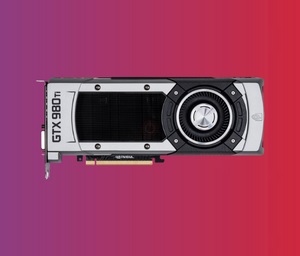 Faster in memory-intensive applications
Much cheaper than GTX 1070
Has some rare and antique variants
Important Aspects of GTX 980 Ti and GTX 1070
Now, let's look at various aspects of graphics cards that will dictate the winner of this battle.
Driver Support
Driver support is often underestimated, and it is a big mistake to do so because drivers are everything. Drivers govern the graphics card's performance, and with the company focusing on its latest hardware, the old hardware gets behind. That is one of the basic concepts in the graphics cards, and the same happens with the GTX 1070 and GTX 980 Ti. Initially, the competition between GTX 980 Ti and GTX 1070 was very close, and both graphics cards beat each other in different games. However, as the new games got released, the performance gap between both cards became big.
This can be particularly noticed with DirectX 12 titles, as the Pascal architecture was more optimized for DX12. Even in DX11 games, this phenomenon can be easily seen because NVIDIA dedicatedly optimized the drivers for Pascal architecture. This difference in performance can be noticed even in old graphics cards such as GTX 700-series graphics cards, and the mid-range 900-series graphics cards became better than high-end graphics cards from the 700-series with driver improvements over time.
With two or more generation differences, the effect becomes twice-fold, and low-end graphics cards like GTX 1050 Ti started performing and became the flagship of the 700-series. Therefore, if you want to be future-proof, it would be better to invest in GTX 1070 because the more new games are released, the more the performance gap between both graphics cards will become. For example, in games like Forza Horizon 4, the performance of GTX 980 Ti could have been more competitive, and it performed closer to GTX 1060 than GTX 1070.
VRAM Difference
As you have seen above, GTX 980 Ti provides 6 GB of GDDR5 memory, while GTX 1070 comes with 8 GB of GDDR5 memory. This 2 GB difference is significant in gaming because many games now use more than 6 GB of VRAM. VRAM is responsible for holding all the data the graphics card is processing, and texture quality is the most significant factor in deciding VRAM usage. The latest AAA games provide very high-resolution textures that exceed the 6 GB of VRAM usage, resulting in stutters in games. Although you can avoid stuttering by lowering the texture quality, many people are uncomfortable lowering the settings, especially the textures.
Since both graphics cards are pricey, it is better to buy a GTX 1070 if you want to use the highest texture resolution in games. This can be particularly noticeable when you own a big-sized monitor, such as a 32-inch one or even a 27-inch one. The low-resolution textures on the big screen look awful and break the game's immersion. On the other hand, if you have a 22-inch monitor or even a 24-inch one, you may not be able to tell the difference between the Ultra texture quality and the Very High texture quality so you can go for GTX 980 Ti.
Memory Performance
Since GeForce GTX 980 Ti offers significantly faster memory than the GTX 1070 if you want to use the graphics card in applications where memory performance matters. GTX 980 Ti might outperform the GTX 1070. GTX 980 Ti has a memory bandwidth of 336.6 GB/s, while GTX 1070 has 256.3 GB/s. You might wonder how GTX 980 Ti has faster memory despite having 2 GB lower VRAM and memory clock rates. You will also have to focus on the graphics card's bus width to understand that.
The memory performance of the graphics card is directly dependent on the memory clock, memory bus width, and memory type. Since the memory type of both graphics cards is the same, i.e., GDDR5, the difference lies in the memory clock rate and memory bus width. GTX 1070 indeed has a higher memory clock. Still, the bus width of the GTX 980 Ti far exceeds that of the GTX 1070, theoretically leading to over 30 percent performance difference. If not for the Delta Color Compression, the GTX 1070 would perform far worse than GTX 980 Ti. Still, the newer generation Delta Color Compression competes with GTX 980 Ti in the memory department.
Variants Of GTX 980 Ti and GTX 1070
Since the GTX 1070 is a newer graphics card, the variants of the GTX 1070 are better than GTX 980 Ti in terms of looks and technologies. Many manufacturers redesigned their variants of graphics cards, where the noticeable mentions are ASUS, GIGABYTE, and MSI. Apart from looks, some other things were also improved, like fans, which resulted in lower noise and better cooling. Since the GTX 1070 is already the cooler card, resulting in much better cooling than the GTX 980 Ti.
On the other hand, since GTX 980 Ti was the flagship graphics card of the previous generation, some of its variants were super powerful and are considered antique. An example of such a graphics card would be EVGA GTX 980 Ti Kingpin; usually, a variant designed only for the flagship model. That is why you would have a better chance of finding a graphics card with a super-strong cooling solution or unique customizations for GTX 980 Ti than GTX 1070.
Another important thing considering the variants of the graphics cards is that GTX 1070 is a mid to high-end graphics card, which is why many small-sized variants of GTX 1070, such as ZOTAC GTX 1070 mini or MSI GTX 1070 Aero, can be used in small cases. On the other hand, you won't find a GTX 980 Ti variant that you could fit in a small case. Therefore, if you own a relatively small case and want to upgrade your old graphics card, it would be better to buy a GTX 1070, as you can easily find its mini variants.
Power Requirement
One of the most significant differences between GTX 980 Ti and GTX 1070 is the power requirement. NVIDIA GeForce GTX 980 Ti has a Thermal Design Power (TDP) of 250 Watts, while GeForce GTX 1070 has a TDP of 150 Watts. This means you require an additional 100 watts of power to run GTX 980 Ti. If you are running a power supply of 500 Watts or close to this, you should be fine running a GTX 1070; however, there is a big chance that you won't be able to run GTX 980 Ti because the real-time power consumption of GTX 980 Ti can sometimes exceed 300 Watts. There is not enough power for other components in the PC.
On the other hand, if you are running a power supply of 600 Watts or more, you should be fine running a GTX 980 Ti at full load. Generally, GTX 980 Ti variants require two 8-pin PCIe power connectors, so ensure that you have sufficient connectors available in your PSU. Meanwhile, a GTX 1070 usually requires a single 8-pin power connector, although some high-end variants require two 8-pin power connectors. Overall, the power requirements of GTX 980 Ti are far higher than GTX 1070, even if variants of both graphics cards need two 8-pin power connectors.
Temperature Control
The difference in TDP of both graphics cards results in a different amount of heat released, which is why it is essential to examine the temperatures of your graphics card closely. If you are running a relatively small PC case and there is not a lot of airflow in the case, then it would be better to buy the GTX 1070 because it is not going to dump as much heat in the system as GTX 980 Ti while GTX 980 Ti can increase the ambient temperature inside the system by a lot after a couple of hours which might lead to low system performance, unwanted shutdowns, or crashes.
On the other hand, if you are using an entire tower case or even a high-end mid-tower case, you should not be worried about the temperatures in your case because such cases can easily withstand flagship graphics cards with around 300 Watt TDP. However, ensure that you use an adequate number of fans, as only a big case might not work correctly with GTX 980 Ti. If you are still keen on buying GTX 980 Ti and own a small PC case, consider purchasing the blower variant because such a variant dumps the heat directly out of the system. The problem with blower variants is that they run at relatively higher temperatures and are clocked lower than high-end open-air variants. Moreover, the life span of the graphics card is also decreased if you run it continuously at high temperatures, i.e., around 85 degrees.
However, you live in a cool area with around 10 to 20 degrees Celsius ambient room temperature. In that case, you should not worry about temperatures because even with the blower variant, you should be running it at temperatures around 70 degrees which is perfectly fine. You can easily overclock such a graphics card to mitigate the difference between the blower and high-end open-air variants.
VR Support
Both graphics cards are powerful enough to run most VR applications at a stable frame rate; however, GTX 1070 is far better in raw performance when it comes to VR.
This is because Virtual Reality was one of the most significant improvements in the 1000-series graphics cards. A major difference was the SMP, i.e., Simultaneous MultiProjection. The performance of the GTX 1000-series in SMP-supported content is almost twice.
However, that is a separate topic; only a little SMP content is available. Still, the GTX 1070 seems a far better option for future releases, so you should not go for the GTX 980 Ti if you want to delve into the deep world of VR gaming.
DirectX RayTracing Features
DirectX RayTracing (DXR) features were one of the most prominent features implemented in the RTX 2000-series graphics cards. Those graphics cards come with dedicated RayTracing and Tensor cores. HOWEVER, NVIDIA GTX 1600-series graphics cards did not support those features, like previous graphics cards. But NVIDIA released specific drivers in mid-2019 that enabled DXR features with 1600-series and 1000-series graphics cards. You could allow RayTracing in the games with NVIDIA GTX 1070 or any other Pascal graphics card. Still, these drivers did not allow these features on older generation cards like GTX 980 Ti, even though the performance of both graphics cards would be similar.
This is because the performance of these Pascal graphics cards in RayTracing could be better than RTX-series graphics cards. Most people would not use this feature and prefer higher frame rates instead. Moreover, these drivers only enabled RayTracing and only some of the exclusive features of the RTX-series graphics cards,, such as DLSS (Deep Learning Super Sampling), which is used to remove aliasing in games. This is because deep learning in real-time does not work without dedicated RT cores, and any Pascal graphics card could not do DLSS. Overall, if you are dazzled by the RayTracing features of RTX-series graphics cards and want those looks in games, consider buying a a GTX 1070.
NVIDIA Compute Capability
The GTX 980 Ti and GTX 1070 are trendy graphics cards for developers working on image processing, machine learning, and other AI development. An exciting feature that the GTX 1070 provides is that it supports NVIDIA Compute Capability 6.1, while GTX 980 Ti supports NVIDIA Compute Capability 5.2. This means that the GTX 1070 will support development features that are not accessible to the GTX 980 Ti, and you will have better compatibility with development tools when using a GTX 1070.
These features excite those using various software technologies for artificial intelligence and machine learning. Many libraries only work with specific NVIDIA graphics cards. RTX 2000-series graphics cards have maximum support, with NVIDIA Compute Capability of 7.5. Since 2000-series graphics cards have dedicated Tensor cores, you would perform better in machine learning applications. Although if you cannot afford those graphics cards, the GTX 1070 should be excellent for you.
Overclocking Support
At the release of GTX 980 Ti, it was one of the fastest gaming graphics cards, but as the Pascal-series graphics cards were released, it dropped all of its charms. The GTX 1070 promised similar performance in games while being far more efficient. However, there was this exciting thing regarding GTX 980 Ti. The stock clocks of the graphics card were very low, which is why it was getting a hard time beating GTX 1070 in games. But the overclocking potential of these graphics cards was huge. With proper technique, one could overclock a GTX 980 Ti to over 1400 MHz easily and up to 1500 MHz of real-time clocks if you are lucky.
This made a massive difference in performance because the real-time core clocks of GTX 980 Ti hovered around 1150-1200 MHz. It is important to note that an overclocked GTX 980 Ti performed better than GTX 1070. Now, this could be done to the GTX 1070, but things are different when overclocking the GTX 1070. Since GTX 1070 had a high base clock of around 1500 MHz, the overclocking did not make much difference.
The GPU Boost 3.0 is also in work here because the real-time clock rates of GTX 1070 are around 1900 MHz to 2000 MHz, significantly higher than the base clocks. That is why if you push GTX 1070 more than 100 or 150 MHz, the graphics card won't be able to tolerate it and crash the drivers. Overall, it could be said that GTX 980 Ti is a definite winner when it comes to overclocking, and it can perform at least as well as the the GTX 1070 in most applications.
Price
The price is the most significant difference between the GTX 1070 and GTX 980 Ti. When GTX 980 Ti was released, it was one of the most potent single graphics cards with a high MSRP of $649. This graphics card was only second to GTX Titan Maxwell, which was available for $999. On the other hand, when the GTX 1000-series graphics cards were released, the GTX 1070 had an MSRP of $449. The MSRP of these graphics cards is hugely different, with GTX 980 Ti being far more expensive than the GTX 1070.
However, the prices of GTX 980 Ti dropped after the release of the GTX 1000-series graphics cards. Still, it does not make sense to buy a new GTX 980 Ti, not to mention that it is almost nonexistent in any stores. Meanwhile, the prices of used graphics cards have changed over the last two years, but the GTX 1070 is somewhat more expensive than the GTX 980 Ti. This makes the GTX 980 Ti great for people looking to save a couple of bucks and who want to play relatively old games.
Similar Features of GTX 980 Ti and GTX 1070
Now, after looking at all the differences, let's look at the similarities between both graphics cards and see why you should not prefer one over the other.
Graphical APIs
There is a common misconception that older graphics cards are incompatible with the latest graphical APIs like Vulkan and DirectX12.
This is very misleading, and you should know that the GTX 980 Ti and GTX 1070 fully support DX12 and Vulkan. DX12 is now supported on ancient graphics cards like GTX 680, etc. Therefore, you should not give preference to GTX 1070 because GTX 980 Ti won't support games like GTX 1070 does.
That is a separate discussion that GTX 1070 is relatively better than GTX 980 Ti regarding the latest APIs.
PCI Express Version
Nowadays, PCIe 4.0 has been released, but still, almost every graphics card supports PCIe 3.0. The same is the case with GTX 980 Ti and GTX 1070, and both graphics cards run on PCIe 3.0 x16 and are fully compatible with older PCIe versions like 2.0.
Suppose you are running a system with PCIe 2.0. In that case, it is better to buy the GTX 1070 because its memory bandwidth would not be bottlenecked by the system. GTX 980 Ti has a high memory bandwidth that will quickly saturate PCIe 2.0.
NVIDIA ShadowPlay
NVIDIA ShadowPlay is a feature that allows you to record your gameplays efficiently and supports most NVIDIA graphics cards. Initially, it was assumed that GTX 1000-series graphics cards no longer support ShadowPlay. Still, it was a baseless assumption, and both the GTX 980 Ti and GTX 1070 support ShadowPlay allowing you to record any game.
Multi GPU Support
There is often a need for multiple graphics cards, especially in the case of computing applications. GTX 980 Ti and GTX 1070 support multi-GPU installation; you can even use them in SLI if needed. However, the game performance could be better and often leads to micro stutters, not to mention that many games do not support SLI.
NVIDIA G-SYNC
NVIDIA G-SYNC is a mind-blowing technology that prevents tearing in games. Both the graphics card and monitor must support G-SYNC for its functionality. Fortunately, GTX 980 Ti supports G-supports and the GTX 1070, so you can buy any of these graphics cards to enable G-SYNC.
I/O Ports
I/O ports are essential if you are interested in a multi-monitor setup. Thankfully, both graphics cards usually come with a 1 x DVI-D port, 1 x HDMI port, and 3 x DP ports. This is the GTX 1070 and 980 Ti; however, some variants might provide 2 x HDMI and 2 x DP ports.
Conclusion
In this article, we presented various factors of the GTX 1070 and GTX 980 Ti and explained why you should buy one or the other. Overall, the practical applications of GTX 1070 are higher than GTX 980 Ti, with better gaming performance, efficient operation, low thermals, and elegant aesthetics.
On the other hand, GTX 980 Ti proved to be faster in memory-intensive applications, is cheaper than GTX 1070, has far better-overclocking support, and yet supports every AAA game released till now.
So, you have enough budget for GTX 1070. In that case, you should consider buying it because it is more future-proof than GTX 980 Ti and is readily available. At the same time, GTX 980 Ti provides better value and is great for people who are low on budget.
Frequently Asked Questions
Is the GTX 980ti still good?
Yes! It is still a good graphics card, but it cannot run the latest AAA titles at high settings on 1440p resolution as it used to run, but it is still a healthy choice for 1080p gaming and can provide high settings at 1080p with good FPS.
Is a GTX 1070 better than a GTX 1660?
Overall, GTX 1660 is a clear winner. It is much faster than GTX1070. Plus, it is more power-efficient and has more FPS while gaming.
Is a GTX 980 still good in 2019?
Yes! Although not as good as GTX 1660 or 1060, GTX 980 can surely provide an immersive experience on high settings at 1080p resolution in new AAA titles.
What does a 980ti compare to?
The overclocked GTX 980ti beats the GTX 1070 and 1660ti, and it was almost as fast as RTX 2060. It also beat AMD's Vega 56 by a 6% margin, so it's a tough graphic card to beat.