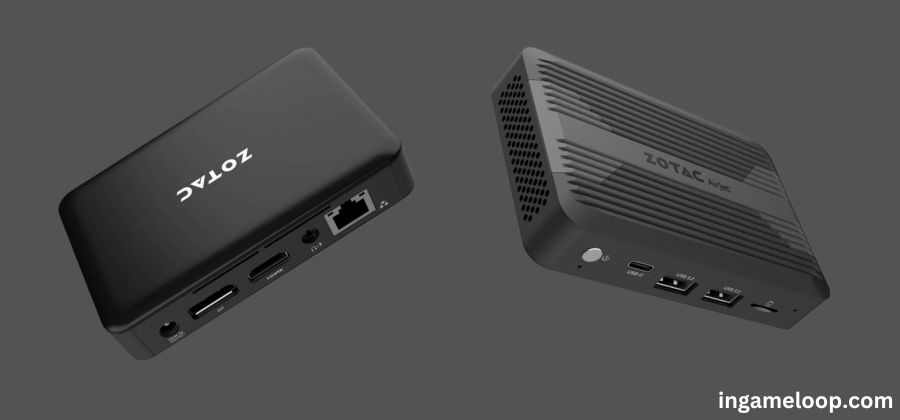 In a significant stride towards more efficient and silent computing, Zotac has unveiled its latest innovation – the Zotac ZBOX PI430AJ, the world's first Mini PC featuring Frore Systems' groundbreaking AirJet® solid-state active cooling technology. This release marks a milestone in compact computing, promising a powerful and quiet computing experience.
The cornerstone of this technological leap lies in the AirJet® cooling chip at the heart of the ZBOX PI430AJ. This innovative cooling system deviates from conventional fan-based methods by silently propelling ultrasonic waves of air through intricate fin-like structures. This unique approach effectively dissipates heat without compromising on power efficiency, resulting in a cooler system that performs admirably under pressure.
Measuring at an astonishingly compact 115 mm x 76 mm x 22 mm, the ZBOX PI430AJ is a marvel of engineering.
Despite its diminutive size, this Mini PC packs a formidable punch. Fueled by an Intel Core i7 processor and integrated Intel Iris Xe graphics, it offers a performance that surpasses its predecessors by a significant margin. This means users can expect a computing experience that is not only compact but also powerful.
One of the standout features of the ZBOX PI430AJ is its silent operation. Whether handling intensive computational tasks, streaming content, or engaging in creative projects, the AirJet cooling system ensures that the Mini PC remains cool and composed. This eliminates the need for noisy fans and eradicates any worries about overheating, providing users with an uninterrupted and peaceful computing experience.
Despite its small form factor, the ZBOX PI430AJ doesn't compromise on connectivity options. It boasts multiple USB ports, including the versatile USB-C, an HDMI output, Gigabit Ethernet, and Wi-Fi 6 support. This ensures that users have a wide range of options when it comes to connecting peripherals or streaming high-definition content, making the Mini PC a versatile choice for various computing needs.
The ZBOX PI430AJ's versatility extends seamlessly into both home and office environments. Whether as a powerful workstation for productivity tasks or as a platform for streaming high-definition content, the sleek design of the Mini PC ensures that it effortlessly integrates into any setting. This adaptability makes it an ideal choice for users seeking a computing solution that can seamlessly transition between work and leisure.
The Zotac ZBOX PI430AJ is available for purchase starting at $699, marking a competitive entry into the market. With this release, Zotac has demonstrated that innovation and performance need not come at the cost of size or noise.
The Zotac ZBOX PI430AJ sets a new standard for Mini PCs with the introduction of Frore's AirJet cooling technology. This compact powerhouse redefines possibilities in computing, proving that significant advancements can indeed come in small packages. As technology continues to evolve, innovations like the ZBOX PI430AJ pave the way for more efficient and quieter computing experiences, setting a benchmark for the industry as a whole.