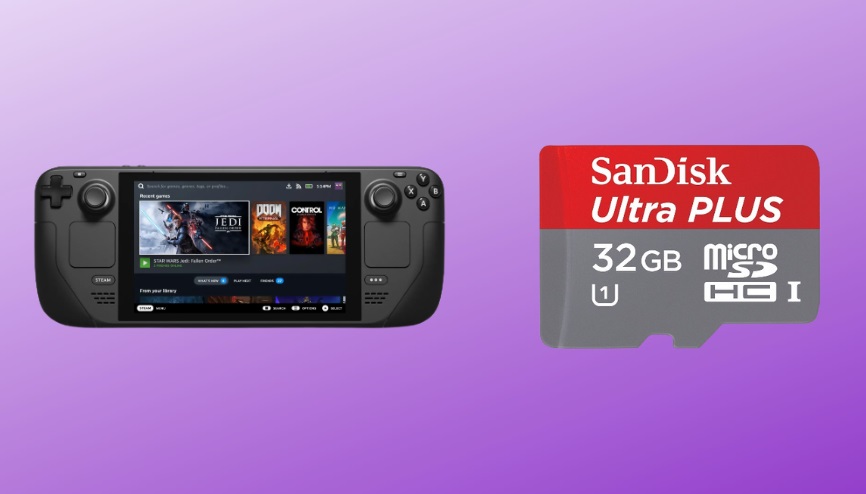 This Linux-based portable gaming device couldn't have come at a better time. The Steam Deck is a highly portable handheld gaming device that brings PC gaming to a whole new level. Steam Deck descended to satisfy the growing desire. With it, we can take our precious PC games and much more out into the world in a highly practical design. All so that we can more actively ignore said world and continue crushing XP on our favorite, distant worlds while catching some real sunlight. It may not be a competitive gaming behemoth, but it has tons of versatility, extended battery life, and the potential for both software and hardware customization. There are some factors to be into consideration after getting this wonder device for the gamers must new how to customize this device to use in a proper channel, the following guide will let you know.
Get Yourself a microSD Card
The first thing to consider after you have a Steam Deck is that you need to focus on the memory of what game you want to play and how much storage it will cover or consume on your device. Games don't load as fast this way as an NVMe SSD, but it's still great to have the extra space without a lot of extra costs. You can purchase different storage variants of 64GB, 256GB, and 512GB. Naturally, this varies depending on what you install, but Forza Horizon 5, for example, takes up more than 100GB of storage space.
Brightness Settings
By default, adaptive brightness is activated, which automatically adjusts the brightness of the screen according to the ambient light. Adaptive brightness isn't the best on most devices, and Steam Deck is no different. Here's how to turn it off. In this device just press the button of steam > Settings > Display. Uncheck Enable Adaptive Brightness and then manually adjust the screen brightness to what you're comfortable with.
Game Compatibility for Steam Deck
The Steam Deck store also links you to compatible games, so you can be sure the game will work before you buy. There is a warning option in Steam whenever you try to install a game that is not compatible with the device it shows the warning notification on the screen. If you have a large Steam library, you will notice many games that have a gray "Unknown" icon. This means that Valve has not confirmed the title's compatibility with Steam Deck.
Always Check the Updates
The source device regularly makes updates to Steam Deck to improve functionality and user experience. Another factor to consider is checking for updates regularly. Do this by clicking on the Steam button on the left and then going to updates. When the update is ready, you will see an exclamation mark in the system settings.
Force Stop/Quit
When using a steam deck, there will be a situation where your Steam Deck will freeze while playing, and then you can force quit with just a few button presses. Steam Deck works, yes, but it's also a rushed mess that requires some patience and understanding from owners. Pressing the Steam button and the B button at the same time will force quit whatever game is causing the problem.
Connection of Other Controller or Keyboard/Mouse
You can also connect other devices for a better and more enjoyable experience. This device comes with an option of Bluetooth radio for connecting wireless peripherals such as a keyboard, and a recommended gaming mouse.
Installation of Softwares
Steam Deck runs on SteamOS, a proprietary version of the Linux operating system developed by Valve specifically for use with their services. SteamOS was originally built in early 2010 and had more limited functionality, but Steam Deck runs on a version that offers a full desktop mode. Steam Deck has many custom components designed for SteamOS so don't install it forcibly if you succeed to install it it will lead you to lose of your device and slower your device so it is not a proper Windows driver for them. Wait until the modding community – or Valve – comes up with a reliable way to do this.