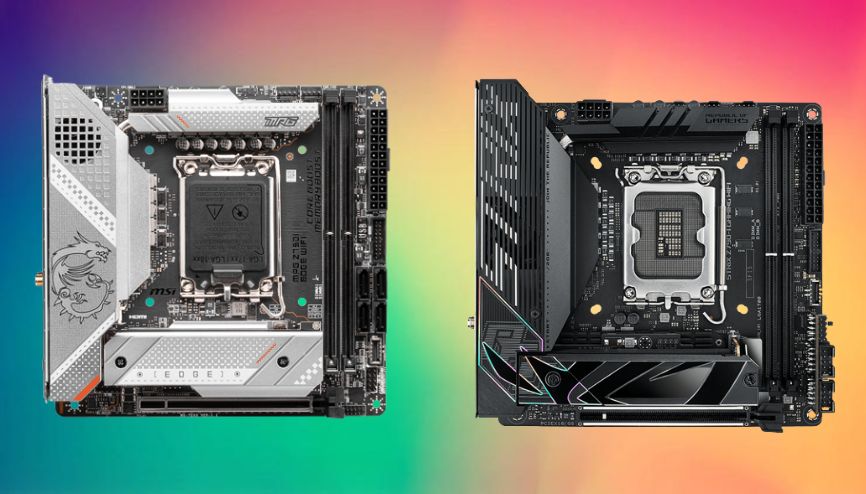 MSI has released MPG Z7901 EDGE WIFI Mini-ITX motherboards specially optimized for intel Z790. These next-gen motherboards offer all the features of the upcoming requirements needed by the upcoming processors and graphic cards. Supporting 5 M.2 slots with 2 heatsinks and a whole new upgraded cooling system this motherboard is going to deliver all you need whether you are a gamer, streamer or you need it in your workstation.
There will be four variants in the MPG Series: the MPG Z790 CARBON WIFI, MPG Z790 EDGE WIFI, MPG Z790 EDGE WIFI DDR4, and the MPG Z790I EDGE WIFI motherboards for Mini-ITX systems. Up to 19+1+1 power phases, an extended heatsink with a heat pipe, and a Lightning Gen 5.0 PCIe slot will also be available on MPG versions. The ATX motherboards can easily support 5 M.2 slots Additionally, the revolutionary Screwless M.2 Shield Frozr will be on the ATX motherboards.
The ATX motherboards can easily support 5 M.2 slots PMIC-restricted memory modules can only use the ASUS Enhanced Memory Profile II (AEMP II) firmware functionality. AEMP II offers an optimal clock speed that may easily unleash performance and is dependent on a CPU and memory module's capacity to train the memory chips on your kit. Built using a flexible training approach, AEMP II makes it simple to prime a high-speed kit for maximum performance or to maximize the performance of an entry-level module while simultaneously maintaining the stability of system operation.
The Z790 platform is best utilized with MPG Z790I EDGE WIFI Mini-ITX motherboards. The makers, die-hard enthusiasts, and custom PC pioneers who build compelling computers that push performance boundaries now have access to new frontiers thanks to each offering its own distinctive design and functionality. You have access to every PCIe lane and I/O port for the modern hardware of your choosing. To control the thermals in any arrangement, heavy-duty heatsinks and cooling alternatives are available.
You can command Intel 13th Gen processors and DDR5 RAM with limitless power and cutting-edge MPG Z790I firmware. The DDR5 memory modules arriving in the new processors and motherboards are the next generation of motherboards and rams. If synchronized with the new 13th gen intel processors or AMD 5000 series or above, it could give you an all-new updated performance best suited for your needs. This motherboard can deliver all that and allows the ability to quickly overclock Intel 13th Gen processors well past 6GHz.
Large heatsinks are required to maintain ideal temperatures for high-speed drives and power components, as well as all the headers and controls required for intricate fan settings and custom loops. You can use the CPU and GPU cooling of your choice to generate powerful power quietly. You can also Increase system bandwidth to the maximum with connectors for peripherals, storage, and graphics that are future-proof, and blaze a path across networks with WiFi and Ethernet that are extremely fast. With high-quality onboard audio, you can connect to your heart's content and then immerse yourself further in the game.