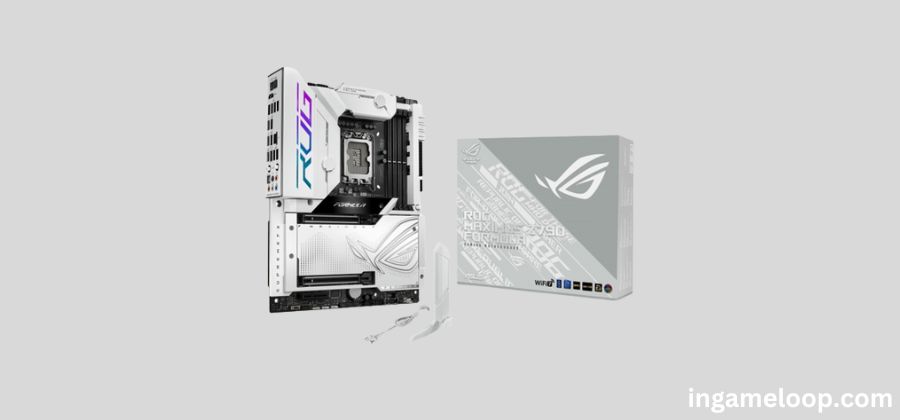 Colorful, a prominent player in the motherboard manufacturing arena, has recently unveiled two new additions to its lineup – the iGame Z790D5 Flow V20 and iGame Z790D5 Ultra V20. These motherboards are designed to complement the Intel Z790 chipset, catering to users with LGA-1700 socket processors. What sets these releases apart is not just their impressive technical specifications but also their distinctive aesthetic appeal, featuring striking white PCBs with black ports.
The iGame Z790D5 Flow V20 and iGame Z790D5 Ultra V20 share a common design language with a white backdrop, offering a clean and modern look. The Flow V20 takes it up a notch with chrome accents on the board shroud, adding a touch of elegance to the overall design. On the other hand, the Ultra V20 introduces a cover on the second PCIe slot and incorporates holographic designs on the heatsink shrouds, providing a unique and visually engaging element.
Both motherboards are equipped with I/O panels that boast a one-click BIOS upgrade port, simplifying the firmware update process. The inclusion of a switch and a clear CMOS button further enhances user-friendly functionality. Notably, Colorful has chosen to prioritize USB ports over audio ports on these models, recognizing the growing demand for increased USB connectivity in modern computing setups.
In terms of technical specifications, both the iGame Z790D5 Flow V20 and iGame Z790D5 Ultra V20 adhere to the ATX form factor, ensuring compatibility with a wide range of cases. The power delivery system is robust, featuring an 18+1+1 phase design to support the demands of high-performance computing. These motherboards offer four PCIe 4.0 x4 M.2 slots, providing ample high-speed storage options for users.
Memory enthusiasts will appreciate the DDR5 support, allowing for overclocking capabilities of up to an impressive 7,000 MHz. The connectivity options are comprehensive, with front and dual USB 3.2 Gen 2×2 ports. The front panel header supports Power Delivery 3.0 at 30W, catering to the increasing prevalence of power-hungry devices. Network connectivity is handled by a Realtek 2.5G Ethernet port, complemented by AX211/210 Wi-Fi 6E and Bluetooth 5.3 for versatile wireless communication.
Distinguishing the iGame Z790D5 Ultra V20, this model features two 12V 4-pin RGB headers and incorporates holographic effects on the heatsinks, adding a touch of customization and flair for users who enjoy personalized aesthetics. On the other hand, the Flow V20 stands out with a shroud covering the second PCIe x16 slot, showcasing Colorful's attention to detail and design innovation.
In comparison to some competitors, such as the ASRock Phantom Gaming Z790 Nova WiFi motherboard, the Colorful offerings deviate in terms of M.2 slot configuration. While the ASRock model boasts six M.2 slots, Colorful opts for a more streamlined approach with four PCIe 4.0 M.2 slots. This aligns with Colorful's commitment to providing cutting-edge technology while meeting the needs of practical computing.
Colorful has introduced these motherboards with a promise of a "410" high-quality service and after-sales support, although specific details about this service are yet to be fully disclosed. The company emphasizes features such as Dr. MOS 90A power phases, alloy-reinforced DDR5 slots, tantalum capacitors, 30μm gold plating on DIMM and PCIe slots, and a debug LED. However, it's worth noting that not all of these features are currently listed on the official website, leaving room for anticipation as Colorful may release more detailed specifications in the future.
While these motherboards undoubtedly showcase Colorful's commitment to innovation and user-centric design, some technical details, such as the structural support for the first PCIe x16 slot reinforcement, remain ambiguous. The absence of rear PCB images adds an element of mystery, leaving enthusiasts eagerly awaiting further clarification from Colorful. In the dynamic landscape of motherboard technology, Colorful's latest releases certainly make a bold statement, combining aesthetics and performance in a package that appeals to both gamers and PC enthusiasts alike.
Related:
MSI releases MPG Z790I EDGE WIFI Mini-ITX motherboards based on Intel Z790
ASRock has an Intel Z790 motherboard approved by Sonic the Hedgehog