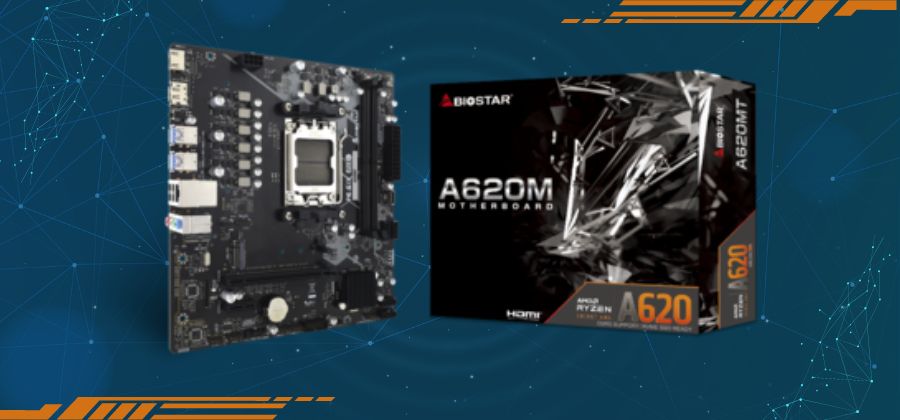 BIOSTAR, a leading manufacturer of motherboards, graphics cards and storage devices, recently announced the A620MT motherboards designed to run the latest AMD Ryzen 7000 series processors. This motherboard perfectly meets the needs of various users, from office applications and system integration companies to home entertainment systems.
A620MT motherboards set the standard for modern computing, offering an impressive array of advanced features and best-in-class performance. This motherboard supports AMD Ryzen 7000 series processors, including the latest AMD Ryzen 5 7500F processors. The AMD Ryzen 5 7500F processor features 6 cores and 12 threads and runs at a TDP of 65W. The Ryzen 5 7500F processor doesn't have integrated graphics capabilities, but BIOSTAR's Radeon RX 7600 graphics card is a great partner for it, and the A620MT motherboard, Ryzen 5 7500F processor, and BIOSTAR's RX 7600 graphics card Combination is the key to success.
The A620MT motherboard is a prime example of top-notch performance packed into an accessible and easy-to-use platform. With impressive capacities of up to 48 GB per module and up to 96 GB total, A620MT features 50% more bandwidth compared to DDR4, supports dual channels and lower power consumption. Thanks to PCIe 4.0 technology, A620MT motherboards ensure optimal resource utilization while maintaining backward compatibility. This motherboard also supports PCIe 4.0 M.2 for low latency and a maximum bandwidth of 64Gbps. This makes them ideal for casual gaming, home entertainment, and industrial applications.
The A620MT motherboard is designed to take your computing power to a new level. Featuring the latest chipsets and support for AMD Ryzen processors, it unleashes the full potential of multi-core processing. Whether you're a gamer looking for a seamless gaming experience or a content creator tackling resource-intensive tasks, the A620MT is designed to handle it all with ease. Front USB Type C:
In addition, A620MT also features a USB 3.2 Gen 2 Type-C on the front, offering higher data transfer speeds and easy plug-and-play functionality. This motherboard also features an onboard debug LED and an AI fan to protect your system and notify you of potential issues while optimizing fan speed for temperature control. Supporting HDMI 4K resolution, Realtek Gigabit LAN and ALC897 7.1 Channels, and high-definition audio technology, A620MT is the ultimate entertainment system for premium viewing in your living room.
BIOSTAR understands the importance of immersive audio and seamless connectivity, especially in gaming settings. A620MT motherboards feature advanced audio solutions that deliver crystal-clear sound for an outstanding gaming and entertainment experience. What's more, high-speed LAN ensures low latency and stable network connection, eliminating potential bottlenecks when playing online games or performing data-intensive tasks.
BIOSTAR recognizes that the user experience goes beyond hardware. An intuitive BIOS interface and easy-to-use software make it easy to operate and optimize your system. Whether you're tuning performance settings or monitoring hardware metrics, A620MT provides a seamless, hassle-free experience.