Ubisoft has decided to make a strategic adjustment to the release schedule of one of its upcoming titles. Assassin's Creed Mirage is now slated to launch on October 5th, a week earlier than its originally planned release date, October 12. This is a rare event in the gaming industry where a game's release date has been moved forward instead of being postponed.
This shift in timing allows the game to create some breathing space between the launch and the arrival of Marvel's Spider-Man 2, another highly anticipated open-world action-adventure game scheduled for release on October 20th. However, Assassin's Creed Mirage will now be sharing its launch window with the debut of Detective Pikachu Returns, which is set to hit the Nintendo Switch on October 6th.
The decision to move up the release date was revealed during a livestream event hosted by Ubisoft. Fans tuning in were met with surprise and elation as Yves Guillemot, CEO of Ubisoft, said:
"While we understand that our fans have been eagerly awaiting the release of Assassin's Creed Mirage, we also recognize that the anticipation has reached incredible heights, We believe that the game is in a state where it can meet and exceed the expectations of our dedicated community, and as such, we are thrilled to bring forward the launch date to October 5."
Ubisoft has officially announced that Assassin's Creed Mirage has gone gold. This significant milestone indicates that the game is now prepared for the production phase, where it will be transferred onto physical discs and subsequently distributed to retail outlets on a global scale.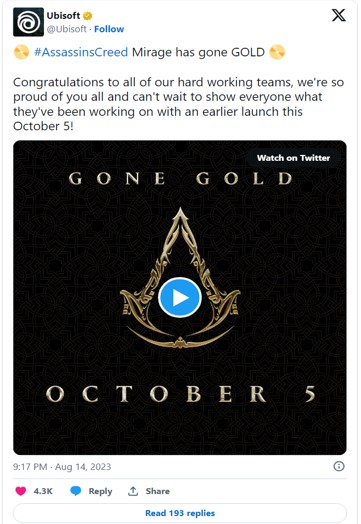 In Assassin's Creed Mirage, players assume the role of Basim, a street thief haunted by unsettling visions, embarking on a quest for answers and justice. Throughout the game, you'll find yourself becoming a part of an ancient organization that introduces you to a new way of life, profoundly impacting your future in unforeseen ways.
The game is making a comeback after not being around for a few years. It has about 20 hours of main story gameplay, and it's designed to be a more usual kind of game. It's going back to what made it popular with a bigger emphasis on sneaking and fancy movements.
As the new launch date of October 5 approaches, anticipation and speculation are likely to continue to grow. Ubisoft's surprise move has added an extra layer of excitement to the lead-up to Assassin's Creed Mirage's release, leaving fans eagerly counting down the days until they can once again dive into the world of historical intrigue and stealthy assassinations.