Advanced Micro Devices (AMD) has officially unveiled its latest addition to the EPYC server processor family, the EPYC 8004-Series 'Siena' CPUs, marking another milestone in the world of high-performance computing.
The EPYC 8004 'Siena' series CPUs represent the culmination of AMD's 4th Generation Server lineup, which includes Genoa, Genoa-X, and Bergamo, all of which incorporate the Zen 4 and Zen 4C architectures. However, 'Siena' stands out as the final piece in this puzzle, offering cutting-edge features and capabilities for server deployments.
One of the standout features of the EPYC 8004 series is its remarkable energy efficiency, specifically designed for the Intelligent Edge. Utilizing the highly efficient 'Zen 4C' core and the new SP6 socket, these processors can deliver up to 2x better SPECpower performance per system watt compared to their competitors.
This level of energy efficiency is critical for businesses operating in space and infrastructure-constrained environments, where minimizing power consumption is paramount.
In terms of performance, the EPYC 8004 'Siena' series processors strike an exceptional balance. They cater to industries that demand top-notch performance per watt capabilities, such as video encoding and IoT Edge gateways. For instance, the EPYC 8534P, the flagship chip in this series, boasts an impressive 64 cores, 128 threads, a base clock of 2.3 GHz, and a boost clock of 3.1 GHz.
While it may feature a slightly reduced cache size of 128 MB (compared to the standard Zen 4's 256 MB cache), it delivers outstanding performance across various workloads. In video encoding, it can provide up to 2.4x more frames per hour per system watt than competing networking products.
Moreover, these processors are perfectly suited for Intelligent Edge deployments, which typically involve smaller clusters of servers rather than entire data center racks. The energy efficiency of AMD's EPYC 8004 series processors can potentially result in substantial cost savings for customers over a five-year period, thanks to better core density and increased throughput compared to the competition.
The EPYC 8004 'Siena' CPUs are accompanied by the AMD SP6 platform, offering a Total Cost of Ownership (TCO)-optimized solution for low-end servers. This single-socket (1P) platform features 6-channel memory, 96 PCIe Gen 5.0 lanes, 48 lanes for CXL V1.1+, and 8 PCIe Gen 3.0 lanes. While it utilizes Zen 4 EPYC CPUs, it primarily targets entry-level solutions, offering up to 32 Zen 4 and up to 64 Zen 4C cores within the EPYC Siena family.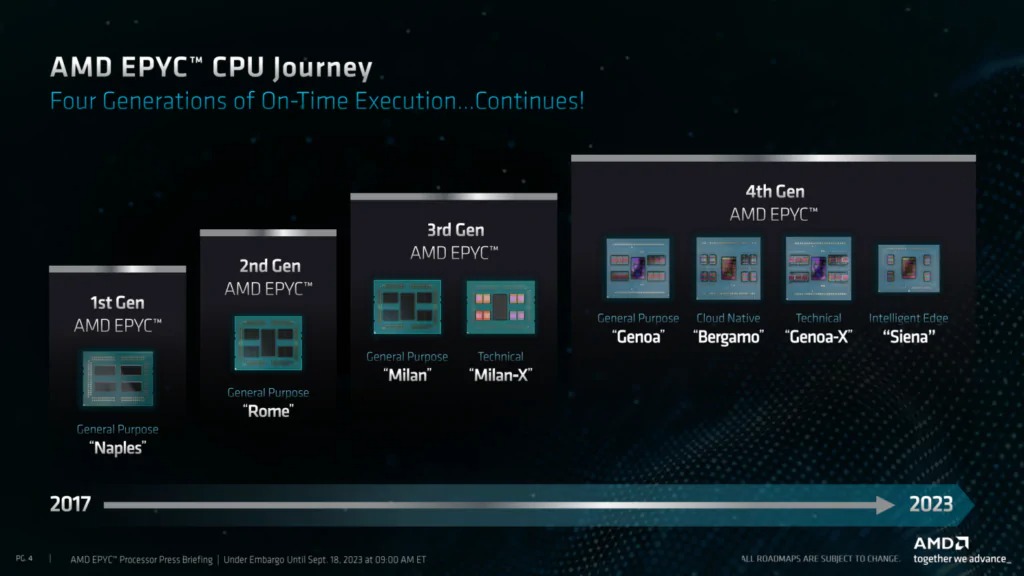 AMD's EPYC 8004-Series 'Siena' CPUs bring a new level of performance, energy efficiency, and cost optimization to the server and data center markets. With up to 64 Zen 4C cores, these processors are ready to meet the challenges of today's demanding workloads, particularly in the Intelligent Edge space. As AMD continues to innovate and push the boundaries of high-performance computing, the EPYC 8004 'Siena' series represents another significant step forward.
Related:
AMD: New Enthusiast-Class RDNA 3 GPUs Coming in Q3
AMD Radeon GPU Detective Helps Troubleshoot GPU Crashes