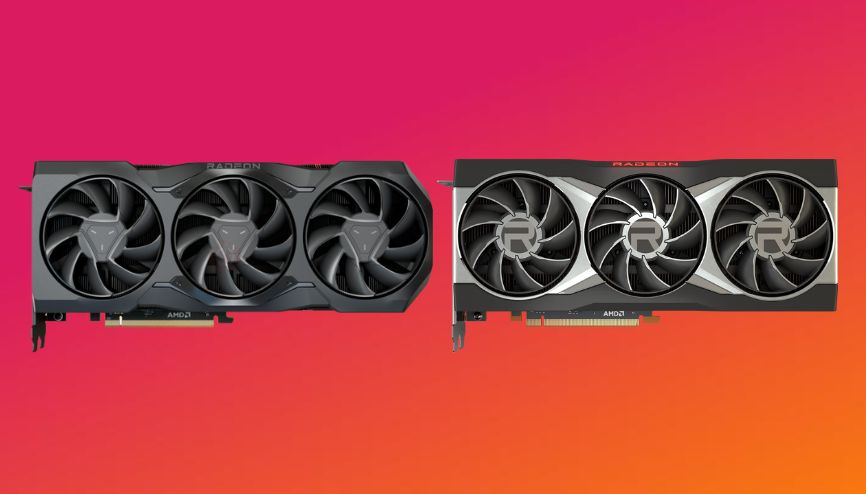 Two potent graphics cards are part of AMD's new Radeon 7000 GPU lineup, which the company recently unveiled. Both cards feature the same chipset design, which was inspired by the most recent Ryzen 7000 processors, thanks to the new RDNA 3 technology that powers them. The 7900 XT and 7900 XTX are the two cards. They are available starting on December 13 for $899 and $999.Compared to GPUs from the previous generation, these cards represent a considerable price increase for AMD.
The standard 6900 XT card costs $679, and the 6950 XT card costs $849. These new AMD GPUs are considerably less expensive than the $1,199 and $1,599 RTX 4080 and 4090 cards from NVIDIA. The RX 7900 XTX, according to AMD, is 1.7 times quicker than the RX 6950 XT. It has 24GB of GDDR6 memory and 96 compute units with a 2.3GHz clock speed. It also has a 384-bit interface. Additionally, this card outperforms the 40-series GPUs in terms of power. Instead of the 450W needed by the 4090, it only needs 3450W.
The AMD Radeon RX 7900 XT model, which isn't significantly less expensive, features 84 compute units operating at 2GHz and 20GB of GDDR6 memory with a little lower 320 bus. A board power of 300W is required. According to AMD, the business chose GDDR6 memory over GDDR6X because it consumes less power. Additionally, these cards can be used without any particular power hookups. This should stop these cards from catching fire as the 40-series GPUs did. T
The 4090's new 12VHPWR connection, which has recently been in the spotlight for melting and burning, is used in NVIDIA's cards. The new GPUs can reportedly deliver 4K 62FPS on Cyberpunk 2077 with raytracing enabled and AMD Fidelity FX Super Resolution activated, according to some gaming benchmarks. In comparison to the prior cards, AMD claims that the GPUs can increase raytracing performance by up to 50% which will have a huge impact on shadows and reflection in-game.
Additional tests reveal the following:
Esports games in 1440p (paired with a Ryzen 9 7950X)
Overwatch 2: 600FPS vs. 300FPS for Apex Legends
833FPS 4K esports games using Valorant (paired with a Ryzen 9 7950X)
Valorant: 704FPS
Apex Legends: 295FPS
Overwatch 2: 355FPS4K – 306FPS
Call of Duty: Modern Warfare 2
Hitman 3 – 275FPS in 4K
8K – 96FPS Assassin's Creed Valhalla
Additionally, AMD claims that the new RDNA 3 technology would increase performance-per-watt by up to 54% over RDNA 2. The technology can generate up to 61 TFLOPs as opposed to RNDA 2's 23 TFLOPs. These figures, however, are incorrect when compared to the two GPU technologies. The true comparison will be made through tests in the actual world. These new GPUs feature AMD's chipset design, which separates the GPU die into many pieces.
According to AMD, this technology enables the GPU to employ the appropriate technology for the task at hand. Thanks to these numerous components communicating with one another, GPU technology can process data at 5.4TB/s. Additionally, the GPUs include DisplayPort 2.1. This indicates that the bandwidth has substantially risen as compared to the earlier cards. High refresh rates can be supported for 4K and 8K content thanks to this. The most recent 40-series cards from NVIDIA still supported DisplayPort 1.4.
AMD intends to introduce Hypr-RX, a one-click stress testing tool on GPUs, in 2023. Users won't need to make any adjustments because it will automatically establish the ideal settings for their AMD technology, including FSR and anti-lag. It will also choose the perfect frame rate for the media you are currently viewing. The cards are scheduled to go on sale on December 13. We don't yet have any pricing or release details for the local market.
The chips also enhance the fashionable ray-tracing technology, allowing game designers to demonstrate sophisticated lighting options like realistic shadowing. Performance is 50% better than the previous generation, and there are 1.5 more rays. The RX 7900 XTX and RX 7900 XT share a similar physical form, and since an 8-pin connector was kept, you should be able to plug it directly into your existing setup without any problem or extra wires.