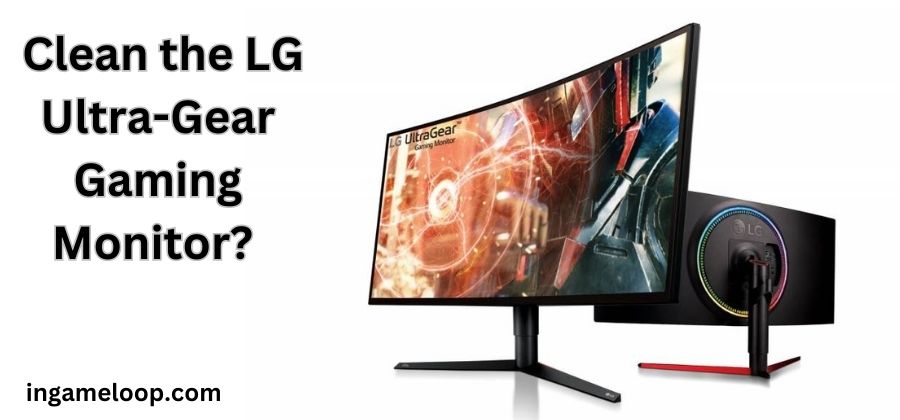 Gaming setups have become more stylish and even more usual these days due to several advanced technical improvements. In addition, you can build a precise gaming system according to your personal preferences while keeping your requirements and usage in your mind. Anyhow, the monitor plays an essential role in your custom rig as this is the window through which you can look into your system and its operations and do your chores. You must pay significant attention to this particular PC component to enjoy playing games and doing other computing tasks. 
But remember that purchasing a monitor is important but knowing how to maintain the previous one is essential. If you think the statement is true and are interested in cleaning the LG ultra-gear gaming monitor, this article can help you. Well, there are plenty of ways to clean the LG ultra-gear gaming monitor depending upon the item, its build, and its design. Therefore, we have done great research before writing this article to get the most precise way to do the job. You must read this post until the end to absorb the whole idea about the query.
What is the LG Ultra-gear gaming monitor?
Before exploring LG ultra-gear gaming monitors, it's essential to know what gaming monitors are first. Gaming monitors are made to maximize the visual quality of your GPU and CPU output when you play games. They portray color, motion, and picture sharpness in a variety of ways, but they are ultimately responsible for showing the results of all of your computer's visual display and processing. Playing a game on a monitor with that many refresh cycles per second could have a noticeable advantage if you can run it at 100 fps and top-tier graphics resolution.
As far as the LG Ultragear gaming monitors matter, these are the perfect gaming monitors for avid creators or competitive gamers. These high refresh rate displays offer high-speed response times of up to 240Hz, which is quicker than 1ms. Make use of Ultragear features to keep up with the gaming trends. Their display has a broad viewing angle and can create vibrant colors and sharp images. The Ultragear line of potent gaming monitors offers the best performance and features, giving users complete immersion in any gaming setting.
How to clean the LG Ultra-gear gaming monitor?
The following steps are required to clean the screen on your LG Ultragear.
Step 1: Turn off your PC/monitor: First thing first, turn your computer off to avoid any voltage shocks and damaging the computer or monitor. After that, unplug your computer from the wall socket and disconnect the monitor from the system.
Step 2: Remove the dust & debris: The next step on the list is to clean and remove any dust or debris collected on the display. Remember, you can use a soft, lint-free cloth to do this job.
Note: Avoid putting too much pressure on the screen when removing it. Moreover, you must also clean the monitor housing and stand as well to make everything neat and clean.
Step 3: Use distilled water: Now, it's time to use some liquids to take everything to the next level. Damp a piece of microfiber towel in distilled water or PC cleaning agents, wipe the whole screen and let it try and shine.
Note: Avoid letting moisture get on or close to the TV because it can short out the electronic parts.
Step 4: Reconnect your monitor: Up to this point, we have done the cleaning process. Now, it's time to reconnect your monitor with your system—all you have to do is put the display in its place and rewire it.
Some precautions before cleaning LG Ultra-gear gaming monitor
Cleaning the hardware on your computer improves system performance and extends its life. Regular maintenance safeguards not only your investment but also the crucial data kept inside your computer. Give the screen a thorough wipe every few days or so, and clean the keyboard of any crumbs. The inside and electrical insulation of switchgear may suffer severe harm from even the smallest airborne contaminants. Cautionary warnings are necessary because they tell the user to proceed carefully. Let's explore some cautionary remarks!
Don't use Windex or all-purpose cleaners; use some available cleaning agents that are designed specifically for computer screens. Additionally, try using a microfiber cloth, the kind you may use to wipe your spectacles or vinyl records.
Also, avoid using household cleaning supplies like paper towels, sponges, old t-shirts, and other similar items to wipe down surfaces. These materials are harsh enough to scratch your monitor's screen because monitors are more sensitive than they appear.
For your information, you can also try using distilled water or adding white vinegar to remove difficult stains.
Before scrolling across your display, just ensure it's clean and clear of debris or filth.
Is cleaning your monitor necessary?
It's crucial to develop the habit of keeping your computer clean. Your computer, mainly the monitor, gathers dust and dirt over time, in addition to catching infections from coughing and sneezing. Even though fingerprints are nasty enough, a dirty monitor causes more eye strain, which is the reason cleaning your monitor is necessary. Additionally, cleaning your display requires a little more effort than a simple wipe-down, and you should avoid using specific products. In this article, we'll discuss how to properly clean your computer monitor.
Conclusion
The LG Ultra-gear is a potent gaming display, but if you haven't cleaned one for months or years, you must before it gets clogged with dust. We have discussed everything to better know about cleaning the LG ultra-gear gaming monitor and taking care of it. Cleaning the monitor is a pricey computer element, so ensure to clean the monitor attentively, avoiding any damage to the item. If you make a mistake, you'll have to spend a lot of time looking at scratches, stains, or even worse—but if you do it correctly, your display will shine like stars.
Frequently Asked Questions
Is the LG Ultragear display suitable for gaming?
The short answer is yes. LG Ultragear display versions often have excellent motion handling and exceptional gaming performance. They also make ultra-wide monitors, although their selection of 1440p displays is somewhat small. The size and resolution of the LG Ultragear monitor are ideal. The 1440p resolution and the monitor's high pixel density enable the 27″ display to offer clear visuals for both desktop and gaming applications.
Can I use Windex to clean my monitor?
No, you can't. According to the Button, it's exclusively intended for use with glass and can be too abrasive for fragile computer screens. Likewise, avoid products like eyeglass cleaning that don't disinfect. According to Button, your dry towel will gather up dirt and bacteria. Surely you will wonder if I can use Windex to clean my monitor. Don't panic since you can use Windex to clean your monitor as a cleaner unless you have a glass laptop screen.
How often should I clean my monitor?
Well, it all depends upon yourself; how much dirt you can bear being collected on the monitor. Still, as per the generic consideration, you must clean your monitor once a month. On the flip side, if you live in a dusty environment, make sure to clean two times a month. Remember, you must follow the method given above to carefully clean the monitor and properly take care of it.