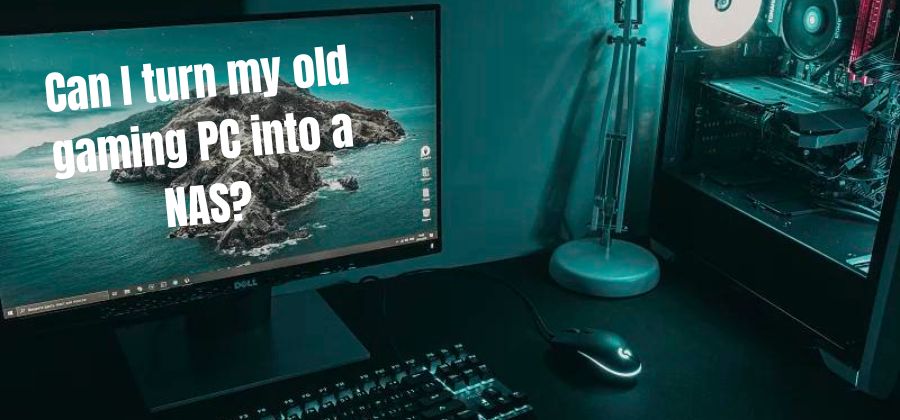 The answer is yes, you can turn your PC into a NAS, but it requires a bunch of steps to follow. It's most commonly known as network-attached storage, which can be retrieved from everywhere by everyone attached to the system just using a remote desktop connection. With the passage of time and technological advancements, making a NAS at home with older stuff is not difficult. This storage allows multiple people to access the same storage by leaving the tension of taking other external hard drives with you.
You need to know that a NAS can be made now with an older personal computer, which is less costly than a newer NAS system or SAN system. If you are going to make your own NAS system, then you have come to a perfect place where you will come to know, and all of your questions will be answered related to, can I turn my old gaming pc into a NAS? We have enlisted numerous essential steps that might help you out in an appropriate way, along with some rules and regulations to complete the process.
What do we need to convert a PC into NAS?
Your older PC: The spare PC you are not using can be your Network Attached System. It should be something other than an antique one, as it cannot qualify for becoming a NAS.
Minimum RAM: 4GB RAM is good, but NAS officially requires 8GB of ram to work better. If your system has enough volatile memory, you're good to go.
Hard Drive: Hard drives are necessary to make any PC a NAS. This storage can be increased later. Usually, these drives last for 3 to 5 years in a NAS.
The UNRAID/FreeNAS OS: These OS are used for remotely controllable storage devices to access them from different places. Make sure to have one of these downloaded USB devices.
Minimum USB device: You must have a USB with at least 4GB storage capacity to store the OS on it, and it will work better in this way. So, make sure you have one.
How to convert an old gaming PC into NAS?
Converting an old gaming computer into a NAS comprises a few steps and a post-installation setup. I have added both ways, installing the software and setting it up to use. Let's explore both!
Installation
Follow these steps to install the software.
Step 1: Download the "FreeNAS" software from the quoted link. 
Note: FreeNAS is a Unix-based OS that can be installed on both 32-bit and 64-bit. The OS requires at least 8 GB of RAM to work smoothly. Our primary focus is to make an older gaming PC a NAS, but the only thing you need to keep in mind is an ancient computer cannot be converted into a NAS because it doesn't satisfy the required specs and can't bear the load.
Step 2: Burn that to the flash drive/disk drive. Now you have to configure the boot sequence by pressing F2 when starting the system. It is recommended to install a NAS on a CD or USB drive that can be permanently inserted.
Step 3: After configuring the boot order, insert the drive in which the OS is burnt. 4GB RAM can also handle this task if you use it to run this OS on a USB flash drive that's installed permanently.
Step 4: At the start of the installation process, it will ask you to select the drive you want to install FreeNAS; all attached drives will appear here, then choose a drive and apply changes.
Step 5: Now reboot the system and place the URL at the bottom of the window and plug it into another PC's browser. In this way, you will have access to your NAS system from other devices. The URL can be made just like https://101.0.2.14. It will also ask for a password instantly, so remember it for future use.
Basic setup
Note: If you prefer, you can remove the Monitor/LCD because it no longer needs it.
Step 1: Enter your credentials like password, user name, etc.
Step 2: After the password is entered, the system will require storage allotment; click on the storage icon and use the ZFS volume manager to create partitions.
Note: If you have 8GB or more RAM, use the UFS volume manager to create partitions. In contrast, if RAM is less than 8GB, the storage allotment is mandatory for the time when you want to store data.
If you need to access the storage over the device, visit the sharing panel. Every Operating system has its protocols, but the FreeNAS allows one to elevate Linux, Windows, or Apple shares. A few operating systems allow various protocols at once. No matter which protocol you use, the parted folder can be accessed just like any other folder. Now everything is done, the files can be transferred from other devices using the Remote Desktop Protocol.
What are the advantages of converting a PC into NAS?
This system is easy to configure and install because it needs no other connections. Since the other servers take more space and connections, NAS isn't needed so it can be accessed from anywhere in the world if it's connected to the Internet.
It can be easily shifted from one place to another because it is not huge.
Many hard drives can be attached accordingly to the storage needed.
It lasts according to the drive's service life, usually 3 to 5 years.
What are the downsides of converting a PC into NAS?
Only one user can have access to the system at a single time.
Basic knowledge of system networking is required for the setup process.
Its performance goes down the same if the protocol speed goes down.
Large files and videos can also cause the slower performance of the system.
Lower equipment will also affect speed.
Conclusion
You can purchase a new pre-built NAS, but it may cost higher than converting an old system to NAS. To save some bucks, many people have asked us, can I turn my old gaming PC into a NAS? Well, yes, you can make this conversion possible by following a simple set of rules we discussed earlier. First, you can check whether the PC is compatible to do so—you can take the help of the given conditions at the beginning of this post. If the system has all those aspects, you are not ready to follow the next process.
The next step is installing the required software—you can take help from some steps in the installation section. After installing the software, set up your system as per your requirements and your needs. Now, your NAS is ready to go. For your information, converting an old PC to NAS enables you to save some bucks. But, if you purchase a built-in NAS, it's most of the time more effective than the converted one. In short, if you have enough bucks in your pocket, I suggest you go for a new one only.
Frequently Asked Questions
Is NAS just a PC?
Technically, yes. A NAS is a PC, but the only difference is that such a computer is connected to the internet or network. You can access the files stored on a NAS from other devices that are connected to the same network.
Can you use an old PC as a NAS?
The short answer is yes. But you first must convert your PC into a NAS to use it for specific purposes. We have discussed everything in this article that is required to convert a PC into a NAS. You must read it until the end to every pros and cons of the process.
Can a NAS be used for gaming?
The short answer is yes. You can use a NAS to play games. But to do that, you have to use your NAS as a storage device and store the games on it. This way, all the games in your network can access and play.